News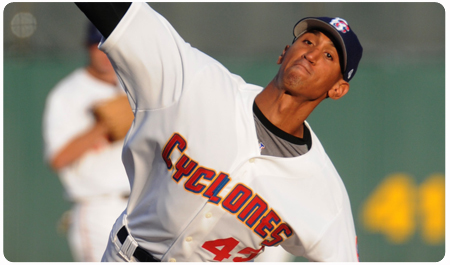 The Brooklyn Cyclones opened the 2008 season with a 3-1 victory over the cross-town rival Staten Island Yankees in front of a crowd of 8,240 at KeySpan Park. With the victory, the Cyclones move to 6-2 all-time on opening day and 7-1 in home openers. Brooklyn also improves to 4-1 when playing Staten Island in the first game of the season.
Zach Lutz and John Servidio delivered RBI doubles, and Lutz added another RBI on a groundout to plate Brooklyn's three runs. Cesar Cordido went 2-for-3, and Brandon Kawal and Kirk Neiuwenhuis also notched hits for the Cyclones.

Brooklyn pitchers held Staten Island to just five hits and one unearned run, while striking out 11 batters. Cyclones starter Pedro P. Martinez (no relation) pitched 4.1 innings, and allowed one unearned run on four hits without allowing an earned run and striking out three. Martinez (pictured, by George Napolitano) was the beneficiary of some stellar defense early, as the Cyclones' infield turned two double plays in the first three innings.

Lefthander Jimmy Johnson entered the game in the fifth inning and was able to stop the rally, getting a strikeout looking and a lineout to second baseman Josh Satin to end the inning.
The Cyclones were able to get out of another jam in the top of the sixth inning, when righthander Wendy Rosa came on in relief of Johnson, who pitched one inning with two strikeouts and no runs allowed. With the bases loaded and two outs, Rosa was able to deliver a strikeout for the raucous KeySpan Park fans. Rosa pitched through the eighth inning without allowing a hit. He finished with 2.2 innings pitched and four strikeouts, with no base-runners getting past first base in the seventh and eighth innings.
Yury Santana picked up the save with a 1-2-3 ninth inning, striking out the first two batters and getting a groundout to third base to end the game.
The Cyclones travel to Staten Island tomorrow, and then return home to take on the Yankees again on Thursday, June 19th at 7pm. That night, the first 2,500 fans will receive a KeySpan Park Front Gate replica, presented by KeySpan. In addition, Hall of Famer Mike Schmidt will be at the ballpark, and will throw out the game's ceremonial first pitch.

Tickets are still available by clicking here or calling 718-507-TIXX.