News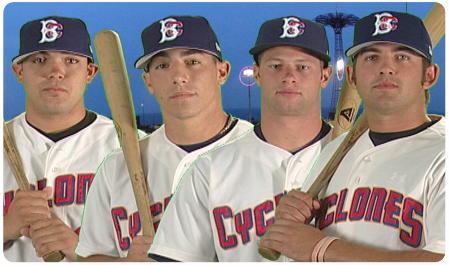 Martinez and Santana on the mound! Reese at short! The 2008 Cyclones roster is finally here!

OK, so it's not Pedro Martinez, Johan Santana, or Pee Wee Reese (well, actually, it is Pedro Martinez, but not that Pedro Martinez. Ours is Pedro P. Martinez. No relation. And to make things even more confusing, our Pedro will also be wearing #45).

We officially met the Cyclones on Saturday, and there are some familiar faces (and familiar names) to go along with a brand new crop of prospects who'll be wearing the Brooklyn jersey this summer.

Shortstop Reese Havens, the Mets' second pick (first round) and pitcher Brad Holt, the Mets third pick (supplemental round), are both on the Cyclones roster -- the highest draft picks currently in Brooklyn. In all, there are 15 players on the Cyclones roster who were selected by the Mets in the First-Year Player Draft on June 5th and 6th.

(For the record, Pedro P. Martinez is currently slated to start on Opening Day against the Yankees this Tuesday, and Yury Santana -- a converted pitcher who used to play shortstop for the Cyclones -- will be coming out of the bullpen)

It's an exciting lineup that manager Edgar Alfonzo calls "maybe the best collection of talent that I've managed in Brooklyn." And that's saying something for the man who has racked up 106 wins, a .671 winning percentage, two division championships and a league championship in his two seasons at the helm.