News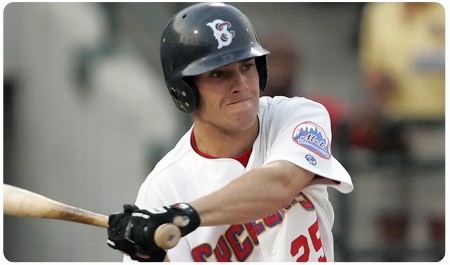 On Saturday, May 24th, Nick Evans made his major league debut for the Mets, becoming the 18th former Cyclone to make it to the big leagues. Evans doubled in his first at-bat, and in fact doubled three times in his debut, becoming the first major league player to do so since Ben Grieve in 1997.

Evans was promoted from Binghamton (AA), where he was hitting .292 (50-for-171) in 45 games, with 30 runs, eight doubles, five triples, eight home runs, and 31 RBI.

The righthanded slugger played for the Cyclones in 2005, joining the club after a stint with Kingsport (R) to play in 57 games for Brooklyn. Evans hit .252 (57-for-226) for the Cyclones in '06, with 30 runs, 11 doubles, three triples, six home runs, and 33 RBI, while playing first base.

Evans belted 57 home runs in the minors before his callup, including 15 in each of the last two seasons for Hagerstown (A) and St. Lucie (A), respectively.

RHP Carlos Muniz was the last former Cyclone to make it to the majors, doing so for the Mets in September of 2007.