News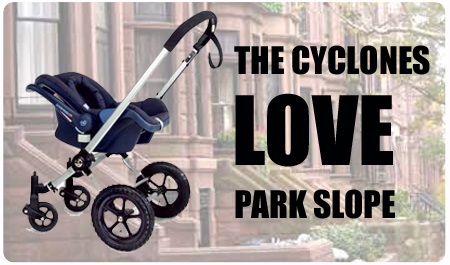 In a recent article, the New York Times asked the question "Park Slope: Where Is the Love?" And the answer is...at a Brooklyn Cyclones game, of course.

On Sunday, July 27th, the team will host "The Cyclones Love Park Slope Night," and celebrate the things that have made the neighborhood famous, for better or worse.

"We were extremely upset to see one of our favorite areas of Brooklyn disparaged," said Cyclones General Manager Steve Cohen. "Park Slopers are an important part of our fan base, and we want them to know that the Cyclones support them, and celebrate them."

On July 27th, the Cyclones will:
hold "stroller olympics" events in-between innings
offer free, secure, valet stroller parking outside KeySpan Park
host a pre-game "Gymboree" class in centerfield
accept "brag about your kid" submissions to be displayed on the video scoreboard
highlight some of Park Slope's most famous people and places
allow strollers onto the field after the game to run the bases
"Park Slope is home to some of Brooklyn's best -- shops, artists, parks, food, and families," continued Cohen, "and so is KeySpan Park, so it's a match made in heaven." "For one night in particular, on July 27th, we'll join the two to create 'KeySpan Park Slope!'"
Tickets are on sale now for "The Cyclones Love Park Slope Night" online
or at
718-507-TIXX
. Anyone wishing to participate in the evening's Park Slope-related activities can register at the information table on the night of the game.