News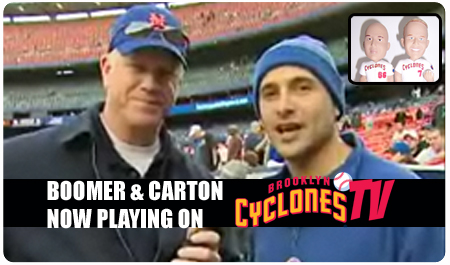 Boomer Esiason and Craig Carton -- the hosts of WFAN's popular morning drive radio show "Boomer & Carton" -- will be at KeySpan Park on Monday, July 14th, and the first 2,500 fans in attendance that night will get free Boomer & Carton bobbleheads!

The duo will be doing play-by-play that night, as the Cyclones take on the State College Spikes on WFAN at 7pm.

Gates open at 5:30 on July 14th, and Carton suggests that you get here early for the hot items, "because tthey'll probably be up on Ebay within a week!"

In the latest installment of BCTV, Boomer & Carton talk about the night, get tongue tied, and show off their lighter sides with a few bloopers and laughs.