News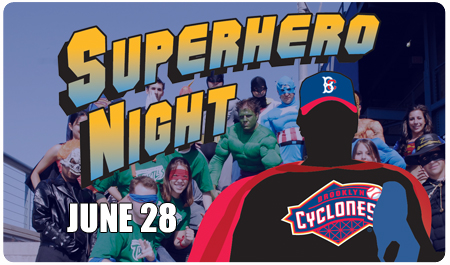 Do you know a group of kids (or adults) that would love to run the bases and take the field for the National Anthem, dressed as superheroes?
A better question might be do you know anyone who wouldn't love to do that?
Little League teams, scout troops, camps, classes -- any group of kids that loves baseball and superheroes (is there another kind of kid?) can take advantage of this fun, exciting, and unique opportunity!
On Saturday, June 28th, the Cyclones will host the 2nd annual Superhero Night at KeySpan Park. Kids and adults are invited to attend the game dressed in costume, and anyone who does so will have the chance to take the field with the Cyclones before the game for the Star Spangled Banner, and then run the bases after the game!
Last year's event was one of the most popular nights of the season, with staff, players, and fans getting into the act, and this year promises to be even better!
Individual game tickets will be on sale in early May, but if you have a group of 20 or more who would like to participate in Superhero Night, you can get your tickets now, and get them at a discount!
The first 1,250 kids (14 and under) will also get a free comic coloring book, featuring the adventures of a certain dynamic duo of Brooklyn Birds!