News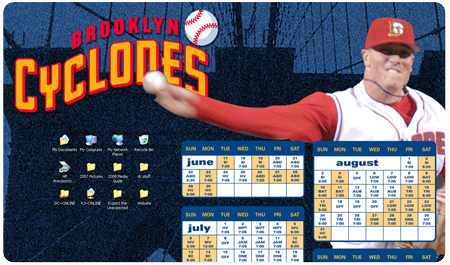 Give your monitor a Brooklyn baseball makeover with just a few clicks by adding one of the Cyclones' new Desktop Wallpaper options. These great images keep Cyclones baseball front and center at work and at home.
Featuring vibrant colors, spectacular action photos, and a 2008 schedule grid, the Desktop Wallpapers are a must-have for every die-hard Cyclones fan.
To get yours today, go to the Multimedia page, and click on Wallpapers, or just CLICK HERE
Then pick the one you like, click on the resolution you need, right click and select "set as desktop background." It's that easy.
And check back from time to time, as we'll be adding more options throughout the year!