News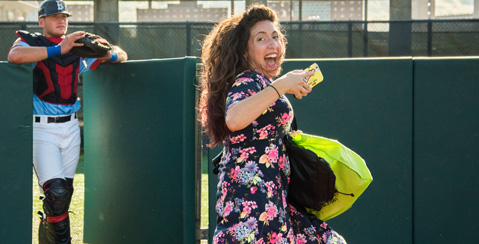 To Purchase Tickets -- CLICK HERE
Hellllllllllllllllo! And welcome to Kramerica Industries Park – home of the Brooklyn Marble Rye. On Saturday, July 13th we will celebrate the 30th Anniversary of the show – everything from Gortex jackets to Pez Dispensers, from Man Hands to Junior Mints – it's a night every Seinfeld fan will want to be a part of. Here's everything you need to know:

Gates Open:. The box office will open at 10 AM and you can collect will call tickets any time after noon on Saturday. Gates will open at 4:00 PM with game time set for 6:00 PM.

Meet & Greet: For those who purchased the Meet & Greet Package with Tim DeKay and Matt McCoy, your tickets, wristband and bobblehead vouchers will be at Will Call under the name of the person who placed the order. The meet and greet will run from 4:30 PM – 5:30 PM in The Gallery located off the main lobby. Your bobbleheads will be available for you at check in in The Gallery. You will be able to get one autograph per person and posed photos will be allowed.

General Meet & Greet:. Tim DeKay and Matt McCoy will be available to the general public for autographs on the main concourse, near Section 21, starting at approximately 6:30 and running through 8:00 PM.

Marble Rye Jerseys:. The team will be wearing Special Marble Rye jerseys on-field during the game. These jerseys will be available through an auction using the Live Source App. All proceeds will benefit "The Human Fund." (Just kidding, proceeds go to various local charities).

Contests:. Here's the big one. We will have about five Seinfeld themed pre-game contests, starting at about 5:00 PM, some more in-game and the Elaine Dancing Contest post-game. Most of the contestants for these will be selected at random as fans enter the ballpark. HOWEVER, we are looking for volunteers for a few contests who can sign up now. If you are interested in participating in our Elaine Dancing Contest, Vile Weed Broccoli Eating Contest or our Costanza Sundae Eating contest, send us an e-mail with the name of the contest you want to sign up for in the subject to Info@brooklyncyclones.com. Space is limited, so act quickly for your best chance at being a part of the fun. Also, we will be on the lookout for a group of fans who show up wearing Baltimore Orioles Caps…if we see you, you may have your seats upgraded to the "Owner's Box" right behind home plate.

The Giveaway: . Everyone in attendance will receive a Fusilli Jerry Figurine when they enter the ballpark. If you purchased the Maestro and Llyod Braun bobblehead package you can redeem your vouchers at Fan Services, located near Section 9 on the Main Concourse. If you have not already purchased the Bobblehead package, it is sold out and no longer available.

The Tickets: Limited Field Box and Box Seats are still available. All seats are $20.