News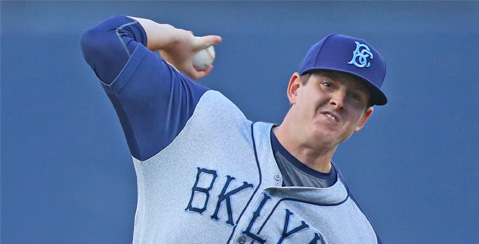 With Spring Training upon us, we will be catching up with former Cyclones as they prepare for the 2019 season. Up first is New York-Penn League All-Star Billy Oxford, who led the NYPL with eight wins - all in relief.
Q. What was your favorite place to eat in BK?
A. My favorite place to eat was definitely the Dinosaur Bar-B-Que by our hotel.

Q. You were named to the 2018 NYPL All-Star Team. What was that experience like for you?
A. The All-Star game was an incredible experience! I had a couple old teammates, one from college and one from travel ball before high school, so getting to play with/against them was a lot of fun. But the best part was the relaxed nature of the game, everyone there just wanted to have fun and the coaches gave us the freedom to do so.

Q. What does your Off-Season routine look like?
A. So I have my offseason pretty planned out. I take September completely off, October I start lifting and throwing super light, November I start to lift heavy and lengthen out my throwing, December I peak with lifting and throwing, January I start to throw bullpens and the lifting stays the same, February is the final push with 2 bullpens a week and I start lifting like I'm in season. I workout 5x a week and throw 3-5x from November on.

Q. What's your favorite baseball movie?
A. My favorite baseball movie by far is Bull Durham, it's also the most accurate!