News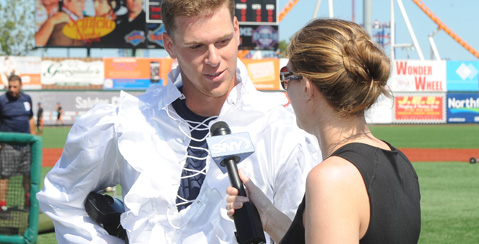 To Purchase Tickets -- CLICK HERE
T'was the night before Seinfeld Night and all through the house, everyone was searching for their puffy white blouse…unless you don't wanna be a pirate of course.

It's finally here. Seinfeld Night V. The night that brings fans from across the country to Coney Island for this annual tribute to a show about nothing. Here's a list to everything you need to know about what has become one of the most popular promotional nights at any ballpark in the country.

Time: First pitch is 6:00 PM. Gates will open at 4:00 PM for the general public and 3:50 PM for Season Ticket Holders. The Box Office will open at 11:00 AM for ticket purchases or to collect tickets at will call.

The Giveaway:. The first 2,000 fans in attendance will receive a Keith Hernandez Talking Alarm Clock. This is expected to be an extremely popular item and will go quickly.

The Packages:. If you purchased the Kenny Bania Talking Bobblehead Package, you will be able to redeem your voucher for the bobblehead at a table near section 9 on the main concourse. If you purchased the .5K Race Package you will be able to collect your t-shirt and guaranteed alarm clock at a table behind section 11 on the main concourse.

I Choose To Run: For those who are participating in the .5k Race, you can download your "Bib" HERE. It is not necessary to "compete" – it's just a fun little add-on. The .5k will consist of one lap around the field at your own pace. It's not competitive – so no need to jump the gun. We ask that you line up at Section 21 by 5:15 PM with the "Race" starting at 5:30 PM. Jeremiah Birkett ("Jean Paul") will be on hand to start things off…as long as he doesn't oversleep of course. You will also have a drink voucher that will be good for one soft drink, water or can of beer at any of our concessions locations on the main concourse.

Autgoraphs and Pictures: Steve Hytner ("Kenny Bania") and Jeremiah Birkett ("Jean Paul") will be available for photos and autographs on the concourse near Section 21 starting at 6:30 PM and going until 8:00 PM.

The Contests:. We will have four contests pre-game and more fun scheduled for in-game an post-game as well. Things will get started just about 5:15 PM. So be sure to arrive early. If you are interested in participating in our Elaine Dancing Contest – please email us at Info@BrooklynCyclones.com and we will give you further instructions. The contestants for the remainder of the contests will be selected at random prior to the game. There will also be a special contest open throughout the game where fans can compete in a game of hand held Frogger at the Raffle Table Near Section 3.

Ticket Availability: There are field box seats still available, but the bleachers have all been sold as part of BasebALL You Can Drink.
Post-Game Fireworks: Stick around after the game, and after the Elaine Dancing Contest, for post-game fireworks.
SeinClones: The Cyclones will be wearing special jerseys during the game tomorrow that will be raffled off after the game in a jersey off the back raffle. Be sure to purchase your tickets at the raffle table near section 3.