News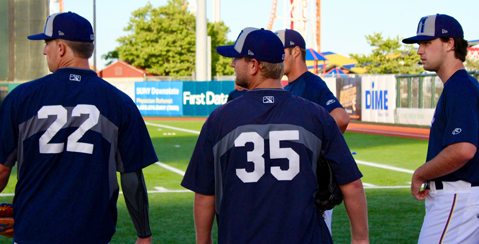 The Brooklyn Cyclones have announced the club's initial roster for the 2018 season, highlighted by several members of the 2018 MLB Draft class. The Cyclones open the season Friday, June 15 at 7 p.m. against the Staten Island Yankees at Richmond County Bank Ballpark.

Nine of the Mets' 40 draftees are set to begin their professional careers at Coney Island. Of the nine, five were drafted in the top 10 rounds. Catcher Nick Meyer, drafted in the sixth round of the 2018 MLB Draft, comes to Brooklyn via Cal Poly San Luis Obispo. Jim Callis of MLB.com called Meyer the best defensive player in the draft. A string of talented arms also make their way to MCU Park. Kevin Smith (7th round, Georgia), Tylor Megill (8th, Arizona), and Bryce Montes de Oca (10th, Missouri) headline a strong group of young pitchers.

Among the draftees, Fort Greene, Brooklyn native Manny Rodriguez, drafted in the 10th round out of Cincinnati, returns to the streets of New York, joining a talented infield core. He joins other college players Brian Sharp (26th, Missouri) and Chandler Avant (30th, Alabama) across the diamond. Also returning to Brooklyn are outfielders Wagner Lagrange and speedster Jose Medina, who stole 25 bases last season, third-best in the league. Catcher Carlos Sanchez, infielder Carl Stajduhar, and pitchers Ryan McAuliffe and Trent Johnson don Cyclones uniforms for the second consecutive season, along with Brooklyn's 2017 Sterling Award winner, Nicholas Debora. Outfielder Kendall Coleman, who was traded from the Yankees to the Mets on April 18, is set to become the first to play for both the Brooklyn Cyclones and Staten Island Yankees, having suited up for the Yankees for the past two seasons.

Several standout members from the 2017 Kingsport Mets, the Rookie league affiliate of the Mets, have moved up to the next level of the system. Infielder Dionis Paulino enters this season coming off of a career year with Kingsport in 2017 when he hit .290 with 10 steals, and 21 RBIs in 51 games. Other members include catchers Kevin Hall and Juan Uriarte and infielder Oliver Pascual.

For the full roster, click here.

Brooklyn opens the home portion of the season Saturday, June 16 at 6:30 p.m. against the Yankees at MCU Park. For tickets, head to BrooklynCyclones.com/tickets.