News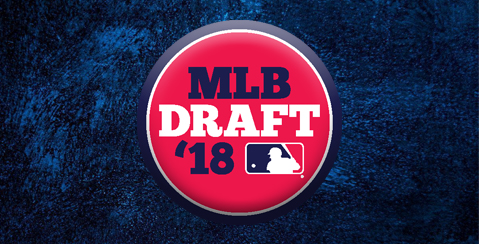 By: Dom Savino
Entering this year's draft with their highest first-round pick since 2004, the New York Mets held the opportunity to shape the organization's future and provide much-needed depth for their farm system.
On Monday night in Secaucus, N.J., a precocious 18-year-old from rural Wisconsin became the face of that future.

The Mets tabbed prep outfielder Jarred Kelenic with the 6th overall pick in the 2018 MLB Draft, setting the tone for two days filled with high-upside selections.

"We feel that Jarred is a young man that possesses tools to give him a well-rounded game," Mets Director of Amateur Scouting Marc Tramuta said. "Where we think he's going to hit, play defense, and add value on the bases. I think that was something that was attractive to us, that you get offense and defense, which is extremely valuable when you're talking about everyday players in today's game."

Later in the evening, the Mets carried that theme into the second round, taking Texas prep pitcher Simeon Woods-Richardson, who, at 17 years old, is the team's first-ever draft pick born in the year 2000.

During rounds 3-10 Tuesday, all eight Mets picks were college players, many of whom are expected to don Cyclones uniforms at some point this summer. Even with five juniors and a draft-eligible sophomore among those selections, the Mets' long-term approach to the 2018 draft was clear.

Here's a look at each of the players the Mets drafted with the team's first ten picks:

Round 1: OF Jarred Kelenic (@JKelenic_1019), Waukesha West HS (WI)
With their highest first-round pick since 2004, the Mets made Kelenic the first Wisconsin prep player selected in the top 10 of an MLB Draft. Widely considered the top high school hitter in the 2018 draft class, the 18-year-old has five-tool potential. Scouts say the 6-foot-1, 190-pound center fielder makes great contact as a left-handed hitter and has a strong arm that profiles well if he moves to a corner outfield spot. Though Kelenic never played high school baseball, he has starred on Team USA's Under-18 squad for the past two years. While on that team, the Louisville commit played for Glenn Cecchini, the father of 2012 Mets first-round pick and 2013 Brooklyn Cyclone Gavin Cecchini. As a 16-year-old, Kelenic earned tournament MVP honors after leading Team USA to the 2016 U-18 Pan American Championship.

Round 2: RHP Simeon Woods-Richardson (@simeon_woods), Kempner HS (TX)
The Mets went back to the high school ranks with their second-round selection, a 6-foot-3, 210-pound right-handed pitcher from the Lone Star State. Woods-Richardson features a fastball that, according to his Perfect Game profile, topped out at 95 mph on the showcase circuit last summer. He also offers a changeup and a curveball, the pitch that scouts say most endeared him to the Mets staff. Ranked 160th on MLB Pipeline's Draft board, the 17-year-old Texas commit is still very raw. He was born on September 27, 2000, making him the Mets' first-ever draft pick born in the year 2000.

Round 3: 2B Carlos Cortes (@loscortes_14), University of South Carolina
The Mets' first collegiate pick of the 2018 MLB Draft, Cortes is a draft-eligible sophomore from South Carolina. Scouts say the Oviedo, Florida native wields a good power bat, and he currently leads the team with 15 home runs to go along with 44 RBI and a .260 batting average. Although he was drafted as a second baseman, the 2018 Baseball America Preseason All-American has predominantly started in the outfield for the Gamecocks, who have advanced to the Super Regionals of this year's NCAA Tournament. Cortes is ambidextrous, throwing right-handed as a second baseman and left-handed as an outfielder. This isn't the first time the 5-foot-8, 192-pound athlete has heard the Mets call his name. The team previously drafted Cortes out of Lake Howell HS (FL) in the 20th round of the 2016 MLB Draft.

Round 4: RHP Adam Hill (@adhill9713), University of South Carolina
The Mets made it back-to-back South Carolina selections by taking the 6-foot-5, 225-pound junior, whose draft stock rose mightily this season. That's thanks in large part to a pair of 14-punchout starts during the first month of the season, including one against Charleston Southern in which he tossed seven no-hit innings. Overall, the right-handed pitcher currently owns a 7-5 record with a 3.99 ERA and 98 strikeouts over 79.0 innings. According to his MLB.com draft profile, his fastball hovers around 91-93 mph and has been clocked as high as 95. The Anderson, South Carolina native also throws a changeup and a slider. He was previously drafted by the San Diego Padres out of T.L. Hanna HS (SC) in the 39th round of the 2015 MLB Draft.

Round 5: RHP Ryley Gilliam (@RyleyGilliam), Clemson University
After working out of the starting rotation as a freshman, Gilliam has impressed as one of the nation's best closers over the past two years. Recently named a second-team All American by Baseball America, the junior right-handed pitcher from Clemson finished the season with 11 saves—tied for the most in the ACC—and 54 strikeouts over 38.1 innings. At 5-foot-10 and 170 pounds, Gilliam is relatively small but, according to his MLB.com draft profile, owns two plus pitches: a fastball that tops out at 96 mph and a 12-6 curveball that reaches into the upper 70s. Last summer, the Kennesaw, Georgia native was a co-closer for the USA Baseball Collegiate Baseball National Team, and did not allow an earned run over 8.1 innings while striking out nine.
Round 6: C Nick Meyer (@nickscards22), Cal Poly San Luis Obispo
A three-year starting catcher at Cal Poly, Meyer has always been a defensively stout backstop and earned Big West Conference Defensive Player of the Year honors this season. MLB.com's Jim Callis tabbed the 6-foot, 195-pound junior as one of the top four defensive players in the 2018 draft class. This year, though, Meyer had a breakout offensive campaign, posting a career-best slash line of .344/.408/.428 with a career-high 16 extra-base hits (14 doubles and two triples). Tough to punch out, the Mission Viejo, California native struck out only 49 times in 600 career at-bats with the Mustangs. He played with Mets fifth-round pick Ryley Gilliam on the USA Baseball Collegiate National Team this summer.
Round 7: LHP Kevin Smith (@k_smith08), University of Georgia
The first left-handed pitcher selected by the Mets in the 2018 MLB Draft, Smith split time as a starter and a reliever at the University of Georgia, making 26 starts and 29 relief appearances over three seasons. Working mostly out of the bullpen this year, the 6-foot-5, 233-pound junior led the Bulldogs with eight victories and 79 strikeouts, which he compiled in 59.2 innings. Smith sports a fastball that hovers around 88-92 mph but, pitching for the Orleans Firebirds in the Cape Cod League last summer, maxed out at 94 mph. According to his MLB.com draft profile, the Dunwoody, Georgia native also possesses a sweeping slider and a changeup that runs in on left-handed batters.
Round 8: RHP Tylor Megill (@tylor_megill), University of Arizona
After picking two prep players, a draft-eligible sophomore, and four juniors, the Mets picked their first senior with Megill. The Seal Beach, California native made multiple stops during his collegiate career, beginning at Loyola Marymount and working as a sophomore starter at Cypress College (CA) before finishing with two years in Arizona's bullpen. Serving as the Wildcats' closer for his senior campaign, Megill led the team with six saves. The 6-foot-6, 230-pound 22-year-old pairs a fastball that sits in the mid-90s with an 82-85 mph slider, per Baseball America. His older brother, Trevor, currently pitches in the San Diego Padres' farm system, and the two played together during Tylor's freshman year at Loyola Marymount.
Round 9: RHP Bryce Montes de Oca (@bmontes43), University of Missouri
By selecting Montes de Oca in the ninth round, the Mets land a top-200 prospect with an electric repertoire and eyebrow-raising potential. According to his MLB.com draft profile, the 6-foot-7, 261-pound right-handed pitcher throws a lively fastball that hovers around 93-98 mph and can reach 100, paired with a wipeout slider in the upper-80s. The recurring obstacle throughout the Lawrence, Kansas native's career has been injuries. He underwent Tommy John surgery as a high school junior, and, in 2016, he missed the year after having ulnar nerve transposition. Ranked 138th on MLB Pipeline's Draft board, the redshirt junior went 6-4 with a 3.13 ERA in 15 appearances (9 starts) this season, striking out 65 over 54.2 innings. Montes de Oca has previously been drafted twice, as a 14th-rounder by the Chicago White Sox in 2014 and as a 15th-rounder by the Washington Nationals in 2017.
Round 10: SS Manny Rodriguez (@Too_manny), University of Cincinnati
The Mets finished Day two of the 2018 MLB Draft by adding Rodriguez, a Brooklyn native and four-year starting shortstop at Cincinnati. The 5-foot-10, 166-pound senior totaled career-bests across his .296/.376/.598 slash line. After smacking just two home runs in his first three collegiate seasons, Rodriguez slugged a career-high 12 round-trippers this year and drove in 38 runs, which doubled his previous best. The right-handed hitter played his high school baseball at Calvert Hill High School (MD), where he was a three-time state champion and tabbed as the top-ranked Maryland shortstop in the 2014 class.
The 2018 MLB Draft concludes Wednesday with Rounds 11-40, with the Mets picking sixth in each round. MLB.com will broadcast all 30 rounds, starting at noon.