News
Single game tickets for the 2018 season will go on sale to the general public on Wednesday, April 25th at 10 AM. This will be your first chance to scoop up tickets for all the fun and excitement coming to MCU Park this summer. Can't wait that long? Like the team on Facebook or follow along on Twitter and Instagram and get access to a special pre-sale before seats are made available to the general public.

Ticket prices for the 2018 campaign have been reduced with the best seats in the house available for just $15 for most games during the year. In addition, $10 Wednesday's return this year where ALL SEATS are just $10. The team has also announced $5 Friday on July 6th when all box seats will cost just $5. For the 10 Platinum Dates scattered throughout the year, Field Box tickets will cost just $17 when purchased in advance.

Also new for the 2018 season is Cyclones Ticket Assurance, which allows you the chance to exchange your ticket like the game was rained out, even if there isn't a cloud in the sky. For example, if you purchase a seat for Tuesday night, but then your daughter comes home from camp with Chicken Pox, you have the ability to exchange your tickets for another game. Just pay an optional $2 per ticket fee at the time of purchase and you'll have piece of mind.

The team has also announced most of their 2018 promotional calendar including bobblehead dates, fireworks, jersey giveaways and theme nights you won't want to miss. Additional items and limited edition packages will be added in the coming days, so be sure to check back before April 25th.
BROOKLYN CYCLONES 2018 HOME GAME SCHEDULE
* Items are distributed to fans, not based on tickets. Meaning if you have five tickets, but only one person to claim them, you will receive only one item. *
** Promotional Giveaway is for first 2,000 fans UNLESS OTHERWISE LISTED.**
***** Game times and promotions subject to change. *****

****** Sunday Family Plan T-Shirts are EXCLUSIVELY for those who purchase that package. MUST BE purchased in advance ******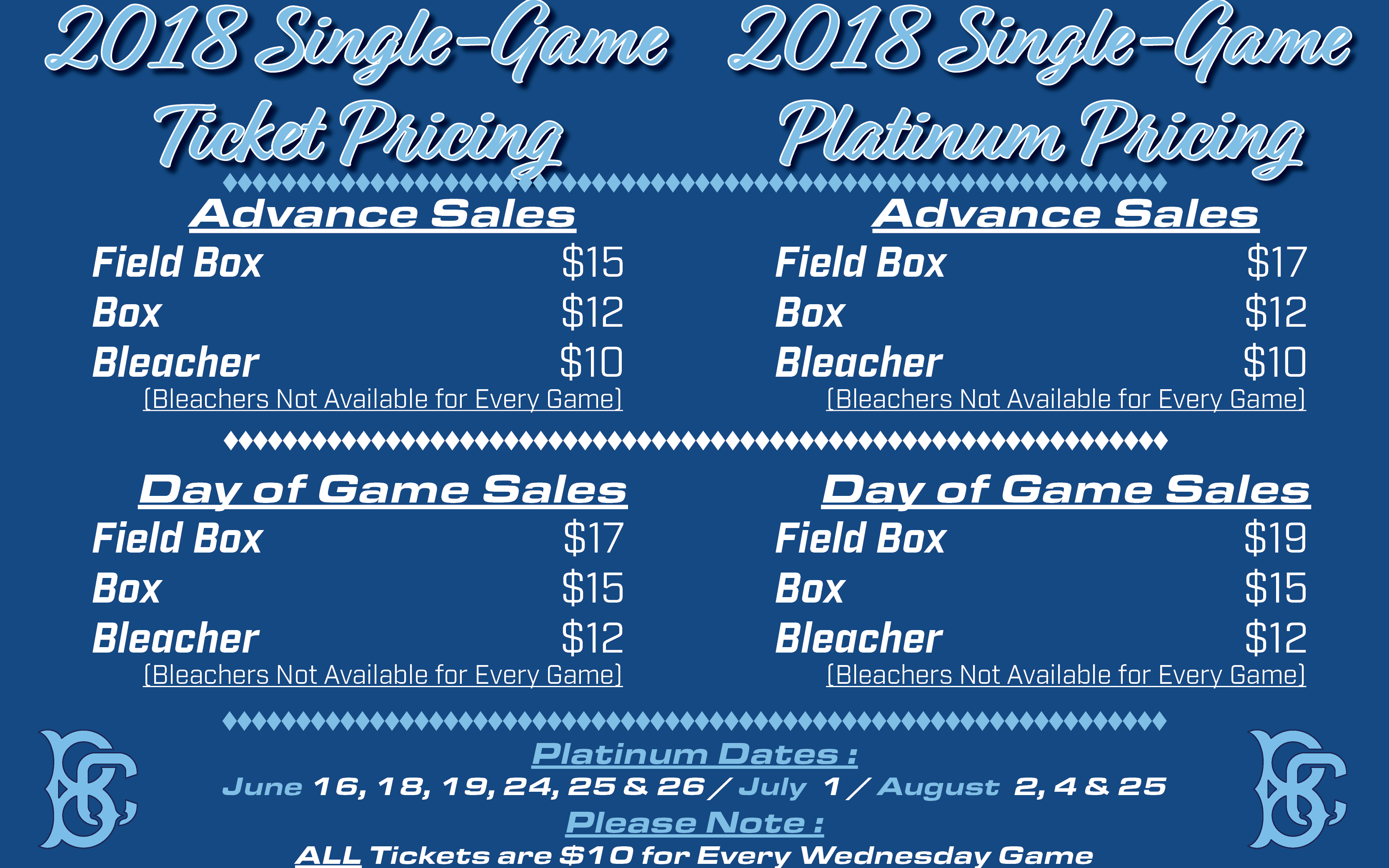 DATE

TIME
OPPONENT
GIVEAWAY/PROMOTION
TICKETS

Saturday,

June 16
6:30 PM

Schedule Magnet

On Sale April 25


Monday,

June 18
7:00 PM

On Sale April 25

Tuesday,

June 19
7:00 PM

On Sale April 25

Wednesday,

June 20
7:00 PM

On Sale April 25

Sunday,

June 24
4:00 PM

On Sale April 25

Monday,

June 25
7:00 PM

On Sale April 25

Tuesday,

June 26
7:00 PM

On Sale April 25

Sunday,

July 1
6:00 PM

On Sale April 25

Tuesday,

July 3
7:00 PM

On Sale April 25

Wednesday,

July 4
6:00 PM

On Sale April 25

Thursday,

July 5
7:00 PM
On Sale April 25

Friday,

July 6
6:40 PM

On Sale April 25

Sunday,

July 8
4:00 PM

On Sale April 25

Saturday,

July 14
6:00 PM

On Sale April 25

Sunday,

July 15
4:00 PM

On Sale April 25

Monday,

July 16
11:30 AM
On Sale April 25

Friday,

July 20
6:40 PM

On Sale April 25

Saturday,

July 21
6:00 PM

On Sale April 25

Sunday,

July 22
1:00 PM

On Sale April 25

Monday,

July 30
7:00 PM

On Sale April 25

Tuesday,

July 31
11:30 AM
On Sale April 25

Wednesday,

August 1
7:00 PM

On Sale April 25

Thursday,

August 2
7:00 PM

On Sale April 25

Friday,

August 3
6:40 PM

On Sale April 25

Saturday,

August 4
6:00 PM

On Sale April 25

Wednesday,

August 8
7:00 PM

On Sale April 25

Thursday,

August 9
7:00 PM

On Sale April 25

Friday,

August 10
6:40 PM

On Sale April 25

Wednesday,

August 15
7:00 PM

On Sale April 25

Thursday,

August 16
7:00 PM

On Sale April 25

Thursday,

August 23
7:00 PM
On Sale April 25

Friday,

August 24
6:40 PM

On Sale April 25

Saturday,

August 25
6:00 PM

On Sale April 25

Wednesday,

August 29
7:00 PM

On Sale April 25

Thursday,

August 30
7:00 PM
On Sale April 25

Friday,

August 31
6:40 PM

On Sale April 25

Saturday,

Sept. 1
6:00 PM

On Sale April 25

Monday,

Sept. 3
4:00 PM
On Sale April 25
* Items are distributed to fans, not based on tickets. Meaning if you have five tickets, but only one person to claim them, you will receive only one item. *
** Promotional Giveaway is for first 2,000 fans UNLESS OTHERWISE LISTED.**
*** Game times and promotions subject to change. *****

**** Sunday Family Plan T-Shirts are EXCLUSIVELY for those who purchase that package. MUST BE purchased in advance ******