News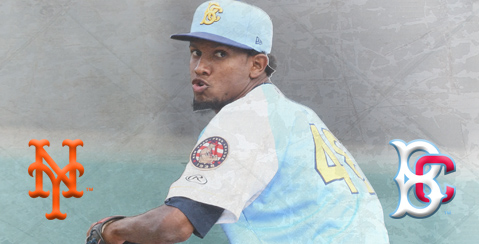 FLUSHING, N.Y., September 25, 2017 – The New York Mets today announced that first baseman Dominic Smith was named the Sterling Minor League Organizational Player of the Year and RHP Corey Oswalt earned Sterling Organizational Pitcher of the Year honors.

In addition, the Mets announced the 2017 Sterling Awards, emblematic of the Most Valuable Player for each of the organization's nine minor league affiliates.

Infielder Amed Rosario was the Sterling recipient at Las Vegas (AAA) of the Pacific Coast League; infielder Luis Guillorme was the winner at Binghamton (AA) of the Eastern League; infielder Jhoan Urena was honored at St. Lucie (A) of the Florida State League; RHP Jordan Humphreys received the award at Columbia (A) of the South Atlantic League; RHP Nicolas Debora was honored at Brooklyn (A) of the New York-Penn League; infielder Rigoberto Terrazas for Kingsport (R) of the Appalachian League; RHP Jaison Vilera was selected for the rookie-level Gulf Coast League Mets; RHP Miguel Ramirez captured the award for the Dominican Summer League Mets I and infielder/outfielder Yoel Romero and infielder Luis Santana received the award for the Dominican Summer League Mets II.
STERLING ORGANIZATIONAL PLAYER OF THE YEAR: DOMINIC SMITH (1B)


Smith batted .330 (151-457) with 34 doubles, two triples, 16 home runs, 76 RBI, 77 runs scored and a .905 OPS in 114 games for Las Vegas before making his major league debut on August 11. His 34 doubles, 16 home runs and 77 runs scored were all career-highs. At the time of his promotion, Smith was among the PCL leaders in hits (151, first), doubles (34, first), total bases (237, second) runs scored (77, tied for fourth) and average (.330, seventh). Additionally, Smith was named the PCL's Player of the Month for July after hitting .385 (42-109). His 28 runs scored in July were most in the circuit while his 21 extra-base hits, total bases (79), slugging percentage (.725) and OPS (1.162) were second-best in the league during July.
STERLING ORGANIZATIONAL PITCHER OF THE YEAR: RHP COREY OSWALT


Oswalt was named the 2017 Eastern League Pitcher of the Year. He went 12-5 with a league-leading 2.28 ERA in 24 regular season starts for Binghamton. He posted the third-lowest single-season ERA in team history, behind Bobby J. Jones (1.88 in 1992) and Paul Wilson (2.17 in 1995). Oswalt finished second in the EL in victories, third in WHIP (1.18) and fifth in opponent batting average (.236). He struck out a career-high 119 batters. Oswalt was named to the mid-season and end of the year Eastern League All-Star teams.

2017 STERLING AWARDS
LAS VEGAS (AAA) OF THE PACIFIC COAST LEAGUE: AMED ROSARIO (SS)

Rosario hit .328 (129-393) with 19 doubles, seven triples, seven home runs, 58 RBI, 19 stolen bases and 66 runs scored in 94 games for the 51s before making his major league debut on August 1 at Colorado. At the time of his promotion, Rosario ranked among the PCL league leaders in hits (second), triples (tied for ninth), batting average (10th) and stolen bases (tied for third). The Dominican Republic native was named the PCL Rookie of the Year. He played in his second straight SiriusXM Futures Game and was also named a mid-season and end-of-season Pacific Coast League All-Star. During the year, he had a pair of 17-game hitting streaks and hit .391 (27-69) with nine RBI and 18 runs scored in 16 games during July before being promoted to New York.
BINGHAMTON (AA) OF THE EASTERN LEAGUE: LUIS GUILLORME (INF)

Guillorme was named to the Eastern League mid-season and end of the year All-Star teams. He finished fourth in the EL with 136 hits, second in walks (72) and led the team with a .376 OBP. Guillorme batted .283 (136-481) and was the toughest player in the Eastern League to strikeout (once every 10.15 plate appearances). He added 20 doubles, 70 runs scored and had 43 RBI.
ST. LUCIE (A) OF THE FLORIDA STATE LEAGUE: JHOAN URENA (INF)

The switch-hitting infielder earned mid-season and end-of-season Florida State League All Star honors. At the time of his promotion to Las Vegas, Urena led the FSL in hits (129), doubles (34), extra base hits (47), total bases (200), runs (72) and games played (122). He was hitting .282 (129-458) with 11 home runs and 17 stolen bases with St. Lucie. Urena combined to hit .277 (139-502) with 34 doubles, three triples, 14 homers, 70 RBI, 77 runs scored and 18 stolen bases in 135 games combined games between St. Lucie and Las Vegas.
COLUMBIA (A) OF THE SOUTH ATLANTIC LEAGUE: RHP JORDAN HUMPHREYS

Humphreys went 10-1 with a 1.79 ERA (16 earned runs/80.2 innings), two complete games (one 6.0-inning and one 7.0-inning), 83 strikeouts and a .197 opponents' batting average in 13 combined starts between Columbia and St. Lucie (A) of the Florida State League. He began the season with the Fireflies, going 10-1 with a 1.42 ERA (11 earned runs/69.2 innings) with 80 strikeouts and nine walks. He was named a mid-season All-Star for Columbia and was then promoted to St. Lucie. At the time of his promotion, Humphreys was leading the South Atlantic League in wins (10), ERA (1.42) and WHIP (0.72). Following his promotion, Humphreys made two starts with St. Lucie and went 0-0 with a 4.09 ERA (five earned runs/11.0 innings). He underwent "Tommy John" surgery on August 29 at the Hospital for Special Surgery.
BROOKYLN (A) OF THE NEW YORK-PENN LEAGUE: NICOLAS DEBORA (RHP)

Debora led the Cyclones in strikeouts (56) and with a 2.33 ERA, allowing just 14 earned runs over 54.0 innings. The 23-year-old went 1-1 with a 1.57 ERA during the month of August, never allowing more than two runs in any of his six outings. The Samana, Dominican Republic native made 14 appearances, seven starts, for the Cyclones and went 1-0 with a 2.22 ERA (six earned runs/24.1 innings) after the All-Star Break. Debora was previously the Sterling Award Winner with the DSL Mets 2 following the 2015 season.
KINGSPORT (R) OF THE APPLACHIAN LEAGUE: RIGOBERTO TERRAZAS (INF)

Terrazas batted .348 (73-210) with 16 doubles, two triples, three home runs, 24 RBI, 45 runs scored and an .898 OPS in 54 games for the KMets. The 21-year-old was named to the end-of-season Appalachian League All-Star team and finished the season among the Appalachian League leaders in average (.348, second), runs scored (45, third), hits (73, fourth) and on-base percentage (.413, fourth). In July, Terrazas rattled off a 11-game hitting streak where he batted .511 (20-41) with four doubles, two home runs and six RBI.
GULF COAST LEAGUE (R): RHP JAISON VILERA

Vilera was named to the Gulf Coast League All-Star team. He finished second in the League with a 1.88 ERA (13 earned runs/62.1 innings) and second in WHIP (0.96). Vilera also led the GCL in strikeouts (56). He went 3-1 in 11 games, eight starts and allowed just 43 hits in 62.1 innings.
DOMINICAN SUMMER LEAGUE #1 (R): RHP MIGUEL RAMIREZ

Ramirez was 6-2 with 1.76 ERA (13 earned runs/66.2 innings), 53 strikeouts and three walks in 14 starts. The 20-year-old finished among the league leaders in ERA (1.76, eighth), WHIP (0.90, third), lowest walks per 9.0 innings ratio among starters (0.40, first) and fewest baserunners/9IP among starters (8.10, second). From July 17-August 11, Ramirez did not allow a run in five starts (29.0 total innings) and did not allow an earned run in six straight starts from July 10-August 11 (34.0 total innings).
DOMINICAN SUMMER LEAGUE #2 (R): YOEL ROMERO (INF/OF)

Romero established career-highs in every offensive category in his third season in the organization after hitting .364 (87-239) with 10 doubles, four triples, two home runs, 35 RBI, 47 runs scored and 17 stolen bases in 67 games. His .364 average was second-best in the Dominican Summer League as were his 87 hits. His 111 total bases were tied for the second-most in the circuit while his .439 on-base percentage was fourth-best in the league. The 19-year-old hit safely in 55 of his 67 games during the season and finished the season on a 16-game hitting streak dating to August 7. Additionally, Romero reached base safely in each of his 34 games played at home while batting .389 (44-113) in those games.
DOMINICAN SUMMER LEAGUE #2 (R): LUIS SANTANA (INF)

Santana led all Dominican Summer League players with 52 RBI and 114 total bases. He finished 10th in the DSL with a .325 (77-237) batting average, eighth in OBP (.430), ninth with a .481 slugging percentage and sixth with a .911 OPS. Santana added 12 doubles, eight triples (tied for sixth in the DSL) and three home runs in 65 games.