News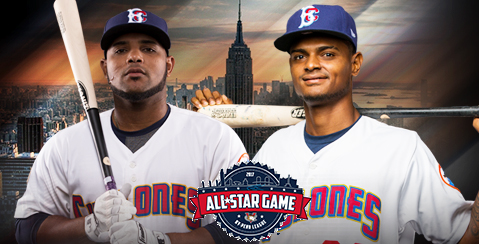 For Full Roster -- CLICK HERE
Brooklyn, NY – August 8, 2017 – The New York-Penn League has announced the rosters for the 13th Annual New York-Penn League All-Star Game, to be played at Joseph L. Bruno Stadium - home of the Tri-City ValleyCats - on Tuesday, August 15th. Two Cyclones will represented the club in the exhibition game that splits teams into the North & South.

OF Jose M. Medina is currently batting .276 (37-134) with 15 runs scored, five doubles, two triples, one home run and 12 RBI in 37 games with the Cyclones. The Bani, Dominican Republic native ranks second in the NYPL with 20 stolen bases and has been caught just one time this season. The 20-year-old is on pace to break OF Angel Pagan's franchise record of 30 stolen bases set during the 2001 season. Medina also ranks second in the NYPL with six outfield assists for Brooklyn.

Also representing the Cyclones will be INF Walter Rasquin. The 21-year-old leads the Cyclones, and is fourth in the league, with a .312 (44-141) average along with 10 doubles, one triple and eight RBI. The Cacagua, Venezuela native also ranks third in the league with 17 stolen bases. Earlier this season Rasquin had a 14-game hitting streak (June 29th – July 14th) and also had a 10-game streak (July 16th-July 25th) to become just the fourth Cyclone with multiple 10+ game hitting streaks and just the second to do it in the same season.

This marks the first time in the 13 year history of the New York-Penn League All-Star Game that a Cyclones pitcher has not made the roster. The two players named to the squad are also the fewest in franchise history. Brooklyn had three selections to the game in 2005, 2008, 2015 and 2016. The Cyclones had eight selections to the team in 2010.