News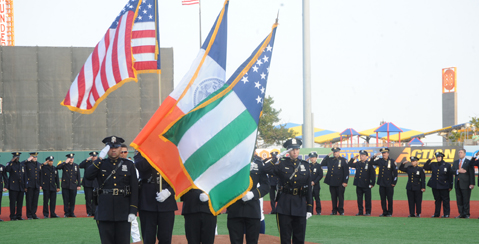 To Purchase Fundraising Tickets -- CLICK HERE
Use Code NYPD
Brooklyn, NY – July 12, 2017 – On Monday, July 17th the Brooklyn Cyclones, Class-A Affiliate of the New York Mets, will host their annual NYPD Appreciation Night at MCU Park on Coney Island. As part of the evening, the Cyclones – in conjunction with the New York City Patrolmen's Benevolent Association – will raise funds for the family of Police Officer Miosotis Familia, who was recently killed in the line of duty.

"Since our team first started here in Brooklyn back in 2001, we have annually held an NYPD Appreciation Night," said Cyclones Vice President Steve Cohen. "In light of recent events, we felt that we should turn this annual event into a fundraiser for Officer Familia's family as our way of showing them that they are not alone and that the people of Brooklyn and New York City are here to support them in any way possible."

Starting Thursday at 10 AM the Cyclones will be offering 500 field box tickets for $15, which will include a voucher for hot dog and french fries at the Surf & Stillwell Nathan's, with all money raised donated to the Familia family.

As part of the night, there will be a pre-game softball game between members of the New York Finest Baseball Team and members of Fox-5's morning show Good Day New York including Rosanna Scotto and Greg Kelly. The game will start promptly at 5:30 PM when gates open and last for approximately one hour.

The Cyclones will also be wearing NYPD caps on-field during that evening's game, which will be signed by the Cyclones players and coaches and raffled off with proceeds to benefit the family of Police Officer Familia.

For group tickets, or to find out how you can get involved in the night, contact us at 718 - 37 - BKLYN.