News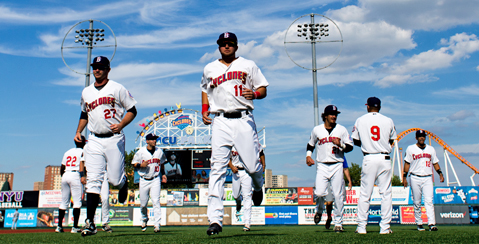 Baseball is back in Brooklyn as the Cyclones kick off the 2017 season against the Staten Island Yankees in a home-and-home series. After opening the season in Staten Island, the Cyclones return home to MCU Park on June 20th for Opening Day! Get to Coney Island early as the players will line the concourse steps to greet the fans at 5:30 p.m. The first 2,000 fans in attendance will also get a 2017 Schedule T-Shirt presented by MCU.
After a three-game road trip in Vermont against the Lake Monsters, the Cyclones will return for a three game weekend home stand to take on the Hudson Valley Renegades. Saturday, June 24th is Girl Scout Night and stick around after the game to enjoy the post-game fireworks.
Sunday, June 25th is Paw Patrol Day presented by Nick Jr. Paw Patrol's very own Skye and Marshall will be at MCU Park for photos! Along with the day's fun, fans can purchase a Paw Patrol Ticket Package that will include a Field Box Ticket and a Paw Patrol T-shirt (available in Toddler and Youth sizes) only available as part of the package. On the field, the Cyclones will be wearing special "I'm Fired Up!" jerseys inspired by Marshall that will be auctioned off after the game. All the proceeds will go to local charities. Since it will be Sunday Funday, the first 1,500 kids 16 and under will get a FREE Cyclones Autograph Panel and will be able to go on the field and get signatures from the Cyclones prior to the game. After the game, the fun doesn't stop as kids will be able to run the bases.
The last game of the series, June 26th, the first 2,000 fans will get a free Chest Protector Lunch Bag courtesy of SUNY Downstate Medical Center. Also, the kids don't get to have all the fun as every fan in attendance will get to run the bases after the game. For tickets, make sure to go to brooklyncyclones.com.
For Opening Day - Tuesday, June 20th -- CLICK HERE
For Saturday, June 24th -- CLICK HERE
For Sunday, June 25th -- CLICK HERE
For Monday, June 26th -- CLICK HERE