News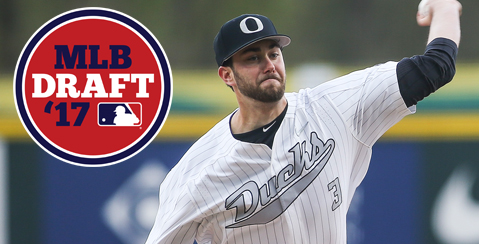 History was made Monday night as the New York Mets added two new pieces to their franchise through the 2017 MLB Draft. With the 20th and 59th picks, the Mets selected a dominant lefty and a young, eager shortstop.

Kicking things off in the first round, the Mets picked David Peterson out of the University of Oregon. The selection marked the second time in the Sandy Alderson era that the Mets selected a pitcher with their first pick. Standing at 6'6", 220-pounds, Peterson has drawn comparisons to two of baseball's biggest names, Madison Baumgartner and Clayton Kershaw. Back in 2014 the Boston Red Sox drafted Peterson in the 28th round, yet Peterson verbally committed to Oregon with hopes of being drafted higher. Last night, his dream came true.

"It's been a dream of mine to play professional baseball," Peterson said. "It took three years of development. It was definitely huge for me to grow as a person and a player and I'm very excited."

During his first two years at Oregon, Peterson struggled with consistency. Last season, Peterson posted a 4-5 record with a 3.63 earned-run average. Last summer, Peterson received and accepted an invitation to participate on USA Baseball's Collegiate National Team. This past season, Peterson starred. He went 11-4 with a 2.51 ERA. He struck out 140 batters in just over 100 innings pitched. On April 29, Peterson had the best start of his career against Arizona State. Peterson struck out 20 Sun Devils, a school record.

"He had just a tremendous year this year," Tommy Tanous, Mets Vice President of Amateur Scouting said. "He's one of those players, one of those pitchers that you feel like every time you see him pitch, he kept getting better."

Peterson may just make is way to Brooklyn this summer. Five of the last six Mets first-round draft picks have played for the Cyclones and last year's second round pick, Peter Alonso starred for Brooklyn before suffering a season-ending injury.

This year's second-round pick, Mark Vientos, is a 17-year-old high school infielder from American Heritage School in Florida. Vientos will turn 18 in December and is ready to begin his professional career. For years he has been on scouts' radars. One of the youngest players in the draft, Vientos attended showcase events at the age of 13. His offensive potential piqued the interest of scouts. He compiled a .417/.467/.523 slash-line in 26 games. At 6'4", 190-pounds, Vientos has been compared to another infielder from Florida, Manny Machado. Vientos played third in high school for the Patriots, yet many are predicting a switch to short for the youngster.

"It's more than likely that he will play third base," Tanous said. "We'll try the shortstop avenue. It may be atypical, but there have been some at his size that have played the position. But we think he can at least stay on the dirt (as an infielder)."

Reflecting after the draft, Tanous seemed ecstatic at the Mets selections.

"Overall tonight, we feel very fortunate to acquire two players we had on our first-round board," Tanous said. "I think it was one of those cases where sometimes the Draft breaks just right for you. It seemed to do so tonight."

The Mets will continue to draft the talent of the future as rounds three-10 continue today starting at 1 p.m. Be sure to check back at BrooklynCyclones.com for updates.
---
THIRD ROUND -- For the Mets third-round draft selection, they turned to the west coast. With the 97th overall pick, Quinn Brodey of Stanford University was selected. Brodey, a 21-year-old rightfielder from Los Angeles, just finished up his junior season and batted .314 with 11 homeruns and 51 RBI. Brodey led the team in average, homeruns, RBI, slugging, total bases (133) and triples (4). He hit two walk offs in an 18-hour span against Texas on March 3 and 4. In 2014, the Washington Nationals drafted Brodey in the 37th round but could not sign him. A scholar and two-sport athlete in high school, Brodey chose Stanford for its combo of academics and athletics.

FOURTH ROUND -- With the 119th overall pick, the Mets chose Tony Dibrell out of Kennesaw State University. Dibrell, a right-handed hurler from Alphratta, Georgia, put together his best season in 2017. In 95.2 innings, Dibrell held batters to a 2.45 ERA. Throughout his collegiate career, he excelled at striking batters out. Dibrell struck out 186 batters over 166 innings pitched. His breakout performance came on April 13 against USC Upstate, when he threw a complete game shutout and struck out 13. His fast arm action and a fastball that tops out at 96 can allow him to succeed as a starter.

FIFTH ROUND -- In the fifth round the Mets revisited the west coast and drafted another Stanford Cardinal: Matt Winaker, with the 157th overall pick. Winaker, a junior first baseman and outfielder from Alamo, California is a defensive stalwart with some pop in his bat. In 2016, Winaker was selected on the All-Pac-12 Defensive team. On April 6 against USC, Winaker hit two of his nine homeruns and drove in three of his 45 RBI. Back in San Ramon Valley High School, Winaker was a two-sport athlete and played quarterback and kicker.
SIXTH ROUND -- The Mets ventured out to the west coast again for their sixth-round pick and drafted Marcel Renteria with the 187th overall pick. Renteria stands at 5'10" and weighs 175 pounds and possess a blazing 99-miles per hour fastball. He just finished up his junior year at New Mexico State and posted a 5-4 record with a 4.74 ERA. Renteria put the bow on his season during a May 14 win against North Dakota. He threw seven shutout innings with three hits allowed and a season-high 12 strikeouts.
SEVENTH ROUND -- In the seventh round, with the 217th overall pick, the Mets selected Conner O'Neil. O'Neil, a right-hander from Cal State Northridge University, had a 2.53 ERA over three years with 197 strikeouts. He was drafted last year in the 32nd round by the Detroit Tigers, but decided to go back to college. Working out of the bullpen, O'Neil holds the program record with 29 saves. Throughout his career, he held opposing batters to a .201 average.
EIGHTH ROUND -- Oklahoma State University's Trey Cobb with the 247th overall pick in the eighth round. Cobb, another right-handed pitcher, stands at 6'1", 200-pounds and is coming off of his senior season in which he had a 3.37 ERA with 36 strike outs in 26.1 innings. Cobb tallied three saves out of the bullpen and gave up more than two runs in only one of his appearances. Cobb's grandfather, Frank Linzy, played 10 seasons in the major leagues for four different teams as a pitcher.
NINTH ROUND -- The Mets continued to stock up young arms on Tuesday as they drafted Cannon Chadwick with the 277th overall pick in the ninth round of the draft. Chadwick, a University of Arkansas Fayetteville pitcher came out of the bullpen a career-high 24 times during his senior season. The righty struck out 38 batters in 32 innings and 3.66 ERA. Before transferring to Arkansas, the Paris, Texas-native, played at Paris Junior College.
10th ROUND -- Stephen Villines was selected in the 10th round with the 307th round pick, making Villines the fifth-straight pitcher selected. Villiness, a reliever from the University of Kansas appeared in 32 games out of the bullpen and had a 2.70 ERA in 43.1 innings. He struck out 54 batters his junior year and used his low-arm angle to find success for the Jayhawks.
ROUNDS 11-13 -- To kick off the day, the Mets selected three high school players. Jack Schneider in the 11th, Bryce Hutchinson in the 12th and Nate Peden in the 13th.
14th ROUND -- In the 14th round, the Mets selected Matthew Duce with the 427th overall pick. In three years, the catcher/infielder batted .321 with 13 homeruns and 88 RBI. This past season, Duce put it all together with 74 hits in 58 games. Duce, out of Sierra Vista, Arizona, has two brothers who also played collegiate baseball.
15th ROUND -- Dylan Snypes, a shortstop out of Oral Roberts University, was picked in the 15th round. Before attending ORU, Snypes played at East Central Community College. Over his career, he has a .304 batting average and has been a run producer, tallying 89 RBI.
16th ROUND -- Raphael Gladu, a native of Quebec, spent four years in the state of Texas playing collegiate baseball before being drafted in the 16th round. An infielder, he spent two years at Galveston College before transferring to Louisiana Tech. Gladu posted a strong .352 batting average, clubbed 13 homeruns and drove in 141 RBI.
17th ROUND -- AJ Labas out of Trinity Christian Academy was the Mets 17th round pick.
18th ROUND -- In the 18th round the Mets selected third baseman Carl Stajduhar out of The University of New Mexico. The catcher/infielder belted 44 homeruns over three years and drove in 188 RBI. He was selected by the Atlanta Braves in the 27th round of the 2014 draft but chose New Mexico instead.
ROUNDS 19 and 20 -- The first 20 rounds ended with the Mets selecting CJ Van Eyk and Yadiel Florres in the 19th and 20th rounds, respectively.
-- Nick Alvarez for BrooklynCyclones.com