News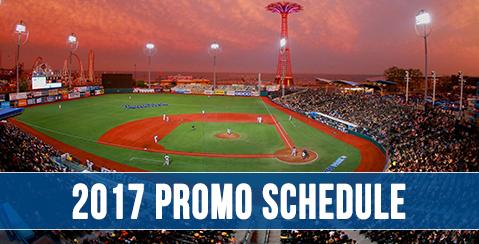 With Single Game Tickets set to go on sale on Saturday, April 22nd at 10 AM, the team has released its preliminary promotional schedule for the 2017 season. This year the team will offer three different types of giveaways: Premium, General and Kids Only. The 10 premium dates scattered throughout the schedule will feature giveaway items for the first 5,000 fans in attendance. This was done to ensure those who can't arrive right when gates open will still have the opportunity to take home great items like the Jose Reyes Sliding Bobblehead (August 3rd), Edgardo Alfonzo Starting Lineup Figure (July 7th), Edgardo Alfonzo Jersey (July 14th), Home Run Apple Jack in the Box (August 24th) and much more.
Also new for the 2017 season will be the Kids Only (16 & under) giveaways and entertainment throughout the summer. Kicking things off will be Paw Patrol Day presented by Nick Jr. on June 25th, followed by a Selfie Stick Giveaway courtesy of Coca Cola (July 9th), a Fidget Spinner (July 16th), Toy Truck Giveaway & Touch a Truck (July 23rd) and Marvel Super Hero Day (August 6th). These dates will also have fun pre-game activities like player autographs, selfies with Cyclones players, pre-game catch on the field, and more. Also, every Sunday kids get to run the bases post-game. For more details on each of the Sunday dates, check the full schedule below. Sunday July 2nd, the Cyclones will pay tribute to "A Kid From Brooklyn" when they have Captain America Bobblehead Day for the first 2,000 fans in attendance as part of Marvel's Captain America Day at MCU Park.
But that's not all, we also have the return of fan favorites like Seinfeld Night IV featuring an appearance from Phil Morris (Jackie Chiles) and a "No Soup for You Bobblehead" to the first 2,000 fans in attendance on August 5th. The schedule also features celebrity appearances from Chauncey Leopardi, who famously played "Squints" in the classic movie "The Sandlot" as part of our Baseball on the Big Screen Night and Chris McDonald (Shooter McGavin) on our Villain Appreciation Day. Both of these characters will have limited edition bobblehead packages available by CLICKING HERE.
Sounds like a fun summer doesn't it? And we didn't even mention the Amed Rosario Garden Gnome, A League of Their Own Tribute Night, Nickelodeon's Doug Night, Jackie Robinson Day and so much more. Take some time and explore the full schedule below...then start planning your summer!
Don't want to wait until April 22nd to get your tickets? There will be a special Social Media Pre-Sale Available to fans on Friday, April 21st. Just follow the team on Facebook, Twitter or Instagram to get the password and link to purchase.
BROOKLYN CYCLONES 2017 HOME GAME SCHEDULE
DATE

TIME
OPPONENT
GIVEAWAY/PROMOTION
TICKETS

Tuesday,

June 20
7:00 PM

2017 Schedule T-Shirt

Game Presented by MCU

ON SALE 4/22


Saturday,

June 24
6:00 PM

Girl Scout Night

ON SALE 4/22

Sunday,

June 25
4:00 PM

Baseball Giveaway

ON SALE 4/22

Monday,

June 26
7:00 PM

Chest Protector Lunch Bag

presented by SUNY Downstate

ON SALE 4/22

Saturday,

July 1
6:00 PM

Rockford Peaches Cap

A League of Their Own 25th Anniversary

ON SALE 4/22

Sunday,

July 2
1:00 PM

Captain America Bobblehead

Marvel Super Hero Day

ON SALE 4/22

Monday,

July 3
7:00 PM

Cooler Beach Bag

ON SALE 4/22

Friday,

July 7
6:40 PM

Edgardo Alfonzo Starting Lineup

presented by DIME

First Responders Night

ON SALE 4/22

Sunday,

July 9
4:00 PM

Selfie Stick presented by Coca Cola

Italian Cultural Night

ON SALE 4/22

Friday,

July 14
6:40 PM

Edgardo Alfonzo Jersey presented by GEICO

Boy Scout Night

ON SALE 4/22

Saturday,

July 15
6:00 PM

Amed Rosario Garden Gnome

Relay for Life Night

ON SALE 4/22

Sunday,

July 16
4:00 PM

Cyclones Fidget Spinner

Harry Potter Night

ON SALE 4/22

Monday,

July 17
7:00 PM

Performance Socks

NYPD Appreciation Night

ON SALE 4/22

Tuesday,

July 18
7:00 PM

Plaid Hat presented by Budweiser

Irish Night

ON SALE 4/22

Wednesday,

July 19
7:00 PM

Mystery Bobblehead Giveaway

Villain Appreciation Day
feat. Shooter McGavin

ON SALE 4/22

Sunday,

July 23
4:00 PM

Toy Truck

Pre-Game Touch a Truck

Bark in the Park

DSNY Appreciation Night

ON SALE 4/22

Monday,

July 24
7:00 PM

Autism Friendly Night

ON SALE 4/22

Tuesday,

July 25
11:30 AM
Camp Day
ON SALE 4/22

Wednesday,

August 2
7:00 PM

Baseball on the Big Screen
"Squints" Appearance

ON SALE 4/22

Thursday,

August 3
7:00 PM

Jose Reyes Sliding Bobblehead presented by NYU Lutheran

Jewish Heritage Night

ON SALE 4/22

Friday,

August 4
6:40 PM

Brooklyn Slices Name Change

Slices Cap Giveaway

FDNY Night

ON SALE 4/22

Saturday,

August 5
6:00 PM

Salute to Seinfeld Night 4

"No Soup for You Bobblehead"

Phil Morris Appearance

ON SALE 4/22

Sunday,

August 6
4:00 PM

Cyclones Hair Hat

ON SALE 4/22

Monday,

August 7
7:00 PM

ON SALE 4/22

Wednesday,

August 16
7:00 PM

Stairway to Music Heaven: A Tribute to Those Who Rocked

ON SALE 4/22

Thursday,

August 17
7:00 PM

Ceramic Stein

Augtoberfest

Game Presented by Kings Auto Group

ON SALE 4/22

Friday,

August 18
6:40 PM

Jackie Robinson Night

Flatbush Ave. Bucket Cap

ON SALE 4/22

Tuesday,

August 22
7:00 PM

Princess & Pirate Night

ON SALE 4/22

Wednesday,

August 23
7:00 PM

ON SALE 4/22

Thursday,

August 24
7:00 PM
Home Run Apple Jack in the Box
ON SALE 4/22

Saturday,

August 26
6:00 PM

Lightsaber Mini Bat

ON SALE 4/22

Monday,

August 28
7:00 PM

Garage Sale Giveaway

ON SALE 4/22

Tuesday,

August 29
7:00 PM

Game Presented by NYU


Military Appreciation Night

ON SALE 4/22

Wednesday,

August 30
7:00 PM

ON SALE 4/22

Thursday,

August 31
7:00 PM

Brooklyn Bridge Ski Cap

Christmas in August

ON SALE 4/22

Friday,

Sept. 1
6:40 PM

Country Music Night

ON SALE 4/22

Saturday,

Sept. 2
6:00 PM

Mr. Potato Head

Saturday Night Fever Night

ON SALE 4/22

Thursday,

Sept. 7
6:00 PM
12 Month Calendar
ON SALE 4/22
* Items are distributed to fans, not based on tickets. Meaning if you have five tickets, but only one person to claim them, you will receive only one item. *
** GOLD = Premium Night. Giveaway is for first 5,000 fans in attendance. **
*** BLUE = Kids Day. Giveaway is for first 1,500 kids 16 & under ***
**** ORANGE = Promotional Giveaway is for first 2,000 fans.****
***** Game times and promotions subject to change. *****

****** Sunday Family Plan T-Shirts are EXCLUSIVELY for those who purchase that package. MUST BE purchased in advance ******