News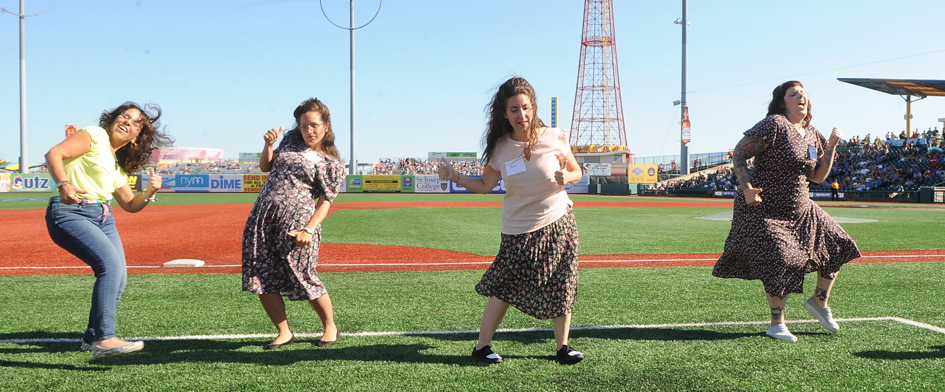 With Salute to Seinfeld Night 2: Bigger, Better & Bania just a few days away, here's a look at everything you need to know about the night that won the award for Promotion of the Year in 2014.
TICKETS: Tickets are still available for the game, and start at just $10. They are available by CLICKING HERE, calling 718 – 507- TIXX, or at the MCU Park Box Office.

GIVEAWAYS: The first 2,500 fans in attendance will receive a Little Jerry Bobblebeak. These are expected to be hot commodities so we recommend arriving as early as possible. Gates will open at 3:30 PM for the 5:00 PM game.

PRE-ORDERED PLANS: If your plan entitles you to a t-shirt, please be aware that shirts were ordered in sizes from Adult Small – Adult XXL and will be available on a first-come, first-served basis. Here's where you can claim your promotional items if you purchased one of our ticket plans:
Festivus Man Hands: If you ordered the Festivus Man Hands package, you should have received a voucher to claim your man hands the night of the game. Be sure to bring that voucher with you to the info table near section 9 and you will be able to redeem it for your Official Seinfeld Night Man Hands.

Van Buren Boys: With the Van Buren boys ticket package you will be able to redeem your vouchers for the Martin Van Buren Bobblehead and the Van B. Boys t-shirt. Both will be available at the info booth near section 9.

Kenny Bania Meet & Greet: Steve Hytner, who played the role of Kenny Bania, will have his private meet & greet in Wine Drives & Short Hops, located to through the main lobby to the right of the primary entrance gates on Surf Avenue. The meet and greet will run from approximately 4:00 – 4:40. You will be able to claim your t-shirt on the concourse level, near section 9.

Del Boca Brooklyn Rooftop: With the Del Boca Brooklyn Rooftop tickets, you are entitled to three different bobbleheads, as well as the t-shirt. You should have received vouchers for each of these items, and you will be able to claim them on the FOURTH FLOOR, in suite 406, adjacent to where your rooftop sitting will be.

Sunday Family Plan: With your Sunday family plan you can claim your limited-edition t-shirt on the main concourse level near section 9. AGAIN, these shirts are available in sizes Adult Small – XXL and are distributed on a first-come, first-served basis.

PRE-GAME & IN-GAME CONTESTS
If you are interested in participating in the Elaine Dancing Contest, Top of the Muffin to YOU! Eating contest, Running Errands for Mr. Pitt, Costanza Trash Eating, or any of our other Seinfeld themed competitions, please e-mail us at info@BrooklynCyclones.com. We'll also have some on-going contests on the concourse where fans will have one minute to eat as many pretzels as possible without assistance from a liquid in our "These Pretzels are Making Me Thirsty" challenge. Contestants should visit the Cyclones Ticket Booth located behind section 3.

FIRST PITCHES:
Is your last name Cartwright? We want you. Will you be wearing an 8-Ball Jacket like Putty? We NEED you. Are you an importer/ exporter? Find your way to MCU Park. Is your last name Drake? We may hate the Drake, but we'd love to have you throw a first pitch. Be the first one with a unique Seinfeld collection and you may be selected to throw out a first pitch. E-mail us at Info@BrooklynCyclones.com

THE KENNY BANIA BUSINESS:
Steve Hytner will be posing for photos and taking pictures with fans from the third inning – the 7th inning on the concourse at MCU Park. Bring some Ovaltine, he'll sign it for you.

JERSEY OFF THE BACK RAFFLE:
The Cyclones will be wearing special on-field jerseys inspired by Kramer's Techni-color Dream Coat. We will be raffling the jerseys off throughout the game – you can purchase raffle tickets on the concourse at the info table or through one of our Beach Bums who will be roaming the stands. If you aren't lucky enough to win, we will have additional game worn jerseys up for auction at CyclonesAuthentics.com starting on Tuesday, July 7th.

Most importantly…HAVE FUN. This is a celebration of all things Seinfeld, and the most important part of the show is the fans who love it. Oh, and if you're taking the subway, watch out for naked guys reading the newspaper…you know what happened when Jerry tried to take the train to Coney Island.