News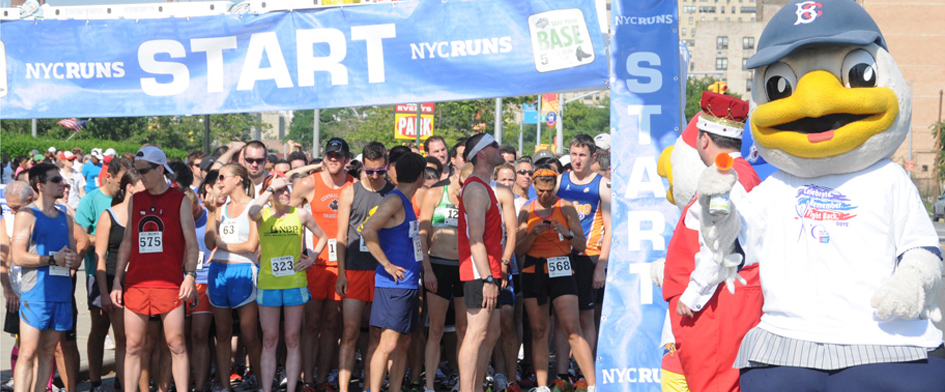 Join the Brooklyn Cyclones on Sunday, June 29th, 2014 for the 10th Annual Take Your Base Run/Walk on the famous Reigelmann Boardwalk in Coney Island. The fee for registration is $35 if you register before May 31st, $40 until June 22nd, and $50 thereafter. You may register in person (cash only) at packet pickup and on the morning of the race. The registration cost includes an official Take Your Base Jersey, ticket to 2014 Brooklyn Cyclones home game, a photo taken of each runner as they cross home plate, and invitation to a post race party with free food and beer/soft drinks.

Last year's Take Your Base raised over $20,000 for local charities while attracting over 1,000 participants to MCU Park. This year's race will embrace new causes, the YMCA Scholarship Program.

The electronically timed 5K race, accurately measured course, and finish at home plate are just the beginning. Stick around after you run for a post-race party featuring summer staples BBQ and Beer, meet the 2014 Brooklyn Cyclones and come back later that night to watch the Brooklyn Cyclones take on the Staten Island Yankees at 5pm. This is one day in Coney Island that should not be missed!
Get involved in "Take Your Base" today! Whether you run, walk, mosey, stroll, or dance your way down the boardwalk, be sure to come out and celebrate the 10th Annual Take Your Base fundraiser.
Each year, the Cyclones gather fans, players, coaches, front office members -- anyone who wants to walk the Coney Island boardwalk -- in support of a truly worthy cause. The event has raised nearly $250,000 in its nine-year history, and with your participation, that number will continue to grow!
We could do so much more – with you.

Every dollar you give to the Annual Campaign for New York City's YMCA directly helps a child or family in need.

No one is ever turned away because of an inability to pay. Our preschool and afterschool programs, our health and fitness programs, our work readiness programs, our programs for seniors and new Americans — all of them are free for the people who need them most, but can't afford to pay for them.

Thanks to your involvement and your kindness, you are building a better tomorrow for New York City.

Please give today.


Walkers and Runners
(Both runners and walkers must register through link)
SIGN UP ONLINE – CLICK HERE to register for the Take Your Base 5K
BUILD YOUR TEAM - Recruit by asking your friends, family, co-workers and your neighbors to join your team.
SET A GOAL - Set your goals high so you have something to strive for and get a chance to win exciting incentives.
FUNDRAISE - Ask for donations. Send out fundraising emails from your personal page. Easily share your fundraising page on social media sites.
COME TO MCU PARK on June 29th and walk or run for a cause!