News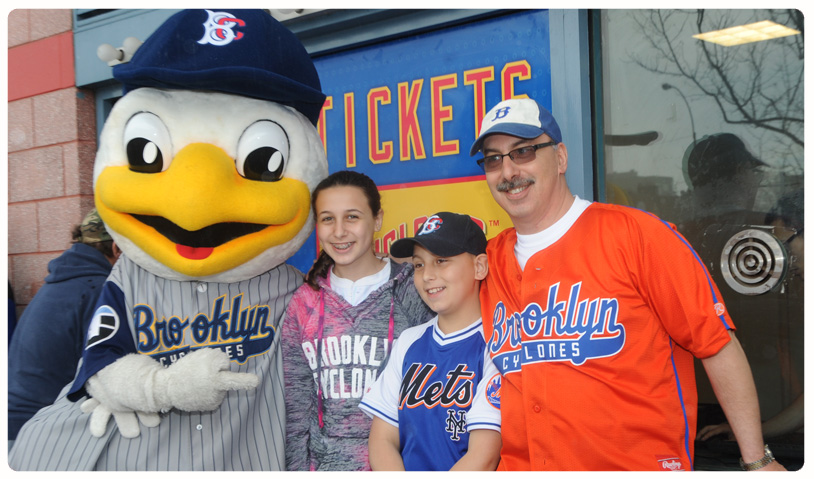 With temperatures rising and school winding down, that can only mean one thing…Brooklyn Cyclones baseball is back! Single Game Tickets for the 2013 season will go on sale Saturday, May 11th at 10:00 AM. Fans can purchase their tickets online at BrooklynCyclones.com, by phone at 718-507-TIXX, or in person at the MCU Park box office.

The 13th season of Brooklyn Cyclones baseball will once again feature 38 home games filled with wacky entertainment, unique giveaway items, unparalleled value and spectacular fireworks shows. But this year, the Cyclones will also embrace the year-long theme of recovery, both on Coney Island and in surrounding communities, through the brand-new Meaningful Monday Initiative. For every Monday game, $3 from each individual ticket sold will be donated to local charities working with those affected by Hurricane Sandy. Each Monday game will highlight a different neighborhood that was impacted by the storm, including Coney Island, Red Hook, Breezy Point / Rockaway, Gerritsen Beach, Staten Island and Nassau County.

In addition to Meaningful Monday, here's a look at the rest of our weekly promotions, including a few new twists:
Sunday Funday: Every Sunday is a memorable one at MCU Park. Before the game, fans are invited to head to the field to have a catch or participate in a pre-game autograph session. Then, after the game, all children are invited to run the bases! From start to finish, Sunday is a Fun-Day on Coney Island!
Run Around Tues: The kids don't get to have all the fun. No matter what your age, we know you're still young at heart, so we're bringing back one of our most popular promotions. After every Tuesday home game, EVERYONE gets to runs the bases (or walk if that's more your speed).
Wacky Wednesday: Every ticket to every Wednesday game will cost just $10 -- Field Box, Box and Bleachers, all just $10. That's the most affordable family fun in all of New York City!
Jersday Thursday: Once again, we'll be giving away high-quality replica and alternative-design jerseys to the first 3,000 fans at every Thursday home game! Jersdays were a home run last year, and this season's designs are sure to be among the hottest items of the summer!
Firerworks Friday: The summer staple is back, with Cyclones fans invited to stay in their seats after every Friday game for a stunning view of the world-famous Coney Island fireworks shows!
Spectacular Saturdays: You'll be even closer to the action on Saturday nights with spectacular post-game fireworks shows from INSIDE the ballpark! This year we've added a new twist, with every Saturday night fireworks show having a special musical theme to give each show a different sound.

"Cyclones baseball has always been something fun and affordable the entire family can enjoy and this summer is shaping up to be no different," said Cyclones General Manager Steve Cohen. "This year we've found even more ways to give fans more bang for their buck, while adding even more fun and excitement!"

In addition to the recurring weekly promotions, here's a look at some of the other highlights of the 2013 schedule:
Irish Heritage Night: Last year's Irish Heritage Night saw one of the largest crowds in ballpark history pack the stands at MCU Park and this year, we expect more of the same. On Thursday, June 20th the first 3,000 fans through the gates go home with a special Irish themed Cyclones jersey. But that's not all, everyone in attendance will be entertained by Irish music, dancing and a full night celebrating all things from the Emerald Isle.
Halloween in July: Super Storm Sandy ruined Halloween for so many children in the Metropolitan area, as flooding and power outages kept kids from making their yearly pilgrimage around the neighborhood in search for candy. With that in mind, the Cyclones will hold a special Halloween Celebration on Monday, July 22nd. Fans will be encouraged to dress in costume while Cyclones front office members man candy stations throughout the ballpark.
Star Wars Night: On Friday, August 9th the Cyclones will host their first-ever Star Wars night at the ballpark. Darth Vader, Storm Troopers and other special guests will be on hand for a night that is sure to be out of this world. Fans can purchase special ticket packages that will come with a commemorative Star Wars t-shirt, while also giving families the opportunity to camp out on the field for a special sleepover under the stars featuring a screening of Star Wars on the big screen.
Princess Night: On August 17th the Brooklyn Cyclones will host their first-ever Princess Night at the ballpark. Fathers are encouraged to bring their little (or not so little) girls to MCU Park, in princess garb, for a night full of regal activities.
Ebbets Field's 100th Anniversary: On Thursday, August 29th Cyclones fans will be taken back in time as we celebrate the 100th Birthday of the former Brooklyn Ballpark. The first 3,000 fans in attendance will receive jerseys inspired by the fashions of the early 20th century. In addition, traditional pop music will be replaced by classic organ ballpark tunes, while public address announcements will be replaced by barkers on top of the dugouts. Fans in attendance will truly receive a history lesson, in addition to a ball game.
For a full list of promotional giveaways – including Daniel Murphy and Johan Santana bobbleheads – as well as other special theme nights, CLICK HERE.

Single Game Tickets range from $9 - $17. Discounted tickets with even more exclusive giveaways, benefits, and extras are available through Season Tickets, V.I.P. Partial Season Plans and Group Ticket purchases. For a complete game schedule, promotional schedule, or more information on Ticket Plans, fans can go to brooklyncyclones.com or call 718-37-BKLYN.