News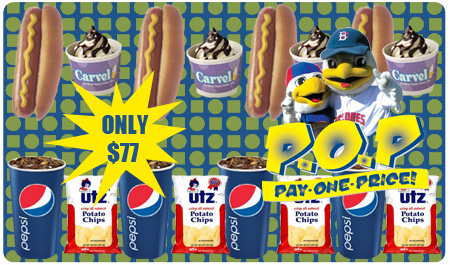 It was so popular last season that we had to bring it back...with a twist. The Pay One Price plan offers the best value for any entertainment in New York City. At every Monday and Wednesday game this season the Cyclones will offer P.O.P. packages for just $77. These value packs include:
Four Field Box Seats
Four Meal Vouchers (Choice of Hamburger or Hot Dog, Chips, and Soft Drink)
Four Carvel Soft Serve Ice Creams
Four Speed Pitch Vouchers
$10 Team Store Voucher
FREE Parking
That is over $130 in value for just $77 total. It's a price - and a savings - that just can't be beat!
GAME DATE
GAME DETAILS
TICKETS
Monday,
June 18th
7:00 PM
OPENING DAY
Schedule Magnet - First 3,000 Fans
presented by MCU
Post-Game Fireworks
Everyone Runs the Bases
BUY
TICKETS
Monday,
June 25th
7:00 PM
NIGHT OF CHAMPIONS
featuring NY Giants Hakeem Nicks & David Diehl
Everyone Runs the Bases
BUY
TICKETS
Wednesday,
June 27th
7:00 PM
WWE: Anti-Bullying Night
Game presented by Dime
Everyone Runs the Bases
BUY
TICKETS
Monday,
July 2nd
7:00 PM
Military Appreciation Night
Post-Game Fireworks
Everyone Runs the Bases
BUY
TICKETS
Wednesday,
July 4th
6:00 PM

Game Presented by Caesars
Post-Game Fireworks
Everyone Runs the Bases

BUY
TICKETS
Monday,
July 9th
7:00 PM
Medieval Times Night
Bensonhurst's 350th Birthday Party
Everyone Runs the Bases
BUY
TICKETS
Monday,
July 23rd
7:00 PM
Ballet & Baseball
Everyone Runs the Bases
BUY
TICKETS
Wednesday,
August 1st
7:00 PM
Cyclones T-Shirt - First 3,000 Fans
presented by CUNY
Everyone Runs the Bases
BUY
TICKETS
Monday,
August 6th
11:00 AM
Camp Day
Everyone Runs the Bases
BUY
TICKETS
Wednesday,
August 22nd
7:00 PM
Garage Sale
Bark in the Park
Everyone Runs the Bases
BUY
TICKETS
Monday,
September 3rd
6:00 PM
Everyone Runs the Bases
BUY
TICKETS
Wednesday,
September 5th
6:00 PM
Everyone Runs the Bases
BUY
TICKETS