News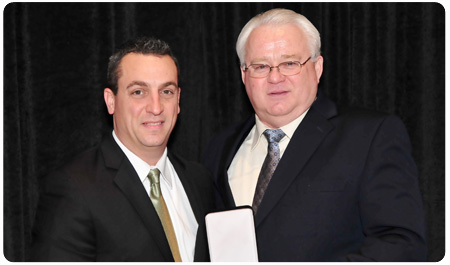 Dallas, TX – December 5, 2011 -- Earlier today, Gary Perone – who serves as the Director of New Business for the Brooklyn Cyclones – received the Minor League Baseball Presidential Citation from MiLB President Pat O'Conner at Baseball's Winter Meetings in Dallas. Perone, who has been a part of the Cyclones family for the better part of a decade, has honored for his efforts in the community both on Coney Island and throughout the New York City area.

The citation, which was presented to the Brooklyn native in a ceremony earlier today reads as follows:

The second citation is for Gary Perone. Gary has spearheaded the diversity efforts of the Brooklyn Cyclones by establishing relationships with schools and organizations like the High School of Sports Management in Brooklyn and Christian Cultural Center, which has a church, sports network, prep school and several retail businesses among its assets. He also helped organize the diversity initiatives of "team up" and the Hideki Matsui international friendship program. For his commitment to diversity within Minor League Baseball, Gary Perone is a recipient of a 2011 presidential citation.


"He's been very aggressive in youth baseball, helping us a wide range of children who aren't traditionally drawn to baseball," Pat O'Conner said. "Gary is a go-to guy for us. If you want to test something, test it in New York. It's got every component of what we need to realize our goals."

Congratulations to Gary from everyone at the Brooklyn Cyclones and thank you for helping shape the Cyclones place in the New York Community.