News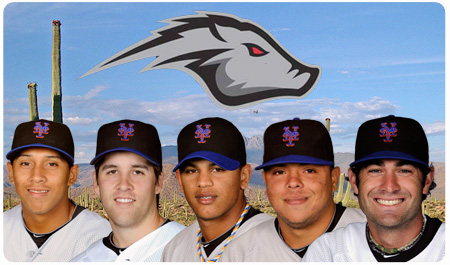 The Arizona Fall League is an off-season league owned and operated by Major League Baseball, which highlights some of the games top minor league prospects. The league is made up of six teams with prospects from five different major league squads combining to form a roster. Some notable stars who have competed in the AFL are Mike Piazza, Roy Halladay, David Wright, Albert Pujols, Ryan Braun and even Michael Jordan, who played for the Scottsdale Scorpions following his season with the Birmingham Barons.

This year, there are five former Cyclones playing for the Peoria Javelinas. Here's a look at how each of those players are doing:
RHP Colin McHugh (2009) -- The righthander is 1-2 with a 8.18 ERA (10 ER / 11.0 IP) in four games, three starts. He has allowed 18 hits in his 11.0 innings while walking five and striking out eight.
RHP Erik Turgeon (2008 & 2009) -- The reliever has been solid out of the bullpen in his seven outings. He has not received a decision, but has allowed only three runs in 9.0 innings, walking three and striking out two while scattering nine nits.
INF Wilfredo Tovar (2010) -- The 20-year-old infielder is hitting .311 (14-45) with eight runs scored, five doubles, and four RBI. He has appeared in 12 of 18 games for the Javelinas.
C Juan Centeno (2010) -- The backstop is hitting .318 (7-22) in six games behind the plate. He has scored four runs, while collecting two doubles and four RBI.
OF Juan Lagares (2008) -- The outfielder has impressed in the AFL hitting .393 (11-28) with five runs scored, one double, one triple and two hume runs while driving in nine.