News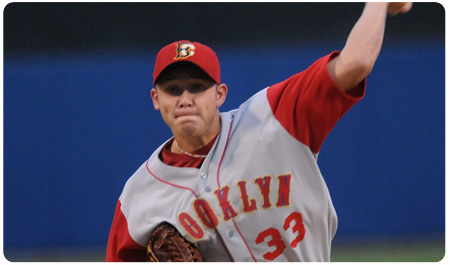 September 10th-Brooklyn, NY
-- The Brooklyn Cyclones season came to a disappointing end as they fell to Staten Island Yankees by a narrow score of 1-0 on Saturday at Richmond County Ballpark in the Semi-Finals of the New York-Penn League playoffs.
Locked in a scoreless tie throughout the evening, the Baby Bombers scored the lone run of the season in the bottom of the seventh inning off Clones' reliever
T.J. Chism
. After striking out Benjamin Gamel to start off the frame, Tyler Austin doubled down the rigthtfield line before Reymond Nunez tripled to left-center for an RBI and a 1-0 lead. Chism struck out Casey Stevenson and Zachary Wilson flew out to center to prevent any further damage.
With their opportunity to return to the New York-Penn League Finals hanging in the balance, Brandon Pinder earned his second save of the series by retiring the side in order.
Travis Taijeron
struck out swinging,
Brandon Brown
popped out to the catcher in foul territory and
Xorge Carrillo
grounded out to the shortstop to end the ballgame and a successful 2011 campaign.
Brooklyn starter
Carlos Vazquez
provided a yeoman-like effort by throwing six scoreless innings allowing just two hits with a walk and six strikeouts while Yankees' starter William Oliver also threw six scoreless innings with two hits, three walks and ten strikeouts. The Cyclones went 1-for-12 with runners in scoring position and left eight men on base as both teams comibined for just eight hits.