News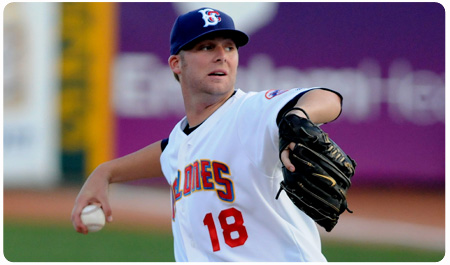 June 29th -- Brooklyn, NY -- The Brooklyn Cyclones (8-5) were defeated by the Hudson Valley Renegades (5-7) on Wednesday night. Cyclones starter Jeff Walters was brilliant in 4.0 innings of work, but did not factor into the decision. Casey Hauptman (0-1) was tagged with the loss after yielding the lone run of the game. Richard Lucas contributed two of Brooklyn's five base hits. The 9,526 fans in attendance made for the fifth-largest crowd in park history.
Wednesday night's game featured a re-match of last Friday's pitching matchup. Jason McEachern, who no-hit the Cyclones through 5.2 innings last Friday, yielded a hit to Javier Rodriguez in the first inning, but managed to keep Brooklyn scoreless through 5.0 innings. The righthander scattered three hits and struck out 10.
After being tagged with the loss last Friday, Walters struck out four batters in 4.0 innings of scoreless ball, yielding just one hit and walking two. Guillame Leduc took the hill in the fifth inning and shutout the Renegades over 2.0 innings of relief.
The Cyclones threatened to string together a two-out rally in the bottom of the sixth, but were unsuccessful. After Richard Lucas ripped a single off the knee of the Renegades reliever, Luke Stewart drew a walk to give the Cyclones their first runner in scoring position since the second inning. A deep fly ball that nestled into the glove of the rightfielder promptly erased the threat.
A Hudson Valley solo homerun in the top of the eighth plated the first, and what proved to be the only run of the game.
Lucas singled in the bottom of the eighth, giving himself his third multi-hit performance of 2011, but he was not brought around to score.
Brooklyn held Hudson Valley off in the top of the ninth, but was unable to plate the tying-run in the bottom of the frame.
The Cyclones look to bounce back at Hudson Valley tomorrow, Wednesday, June 30 at 7:05 p.m. Lefthander Chris Hilliard (2-0) will take on lefthander Jacob Partridge (0-1). Brooklyn returns home on Sunday, July 3 at 6:00 p.m. In celebration of July 4th, the Cyclones will be hosting a Special Holiday Extravaganza! There will be a pre-game catch on the field, Cyclones Spirit Flags will be given away to the first 2,500 fans in attendance, and kids will be invited to run the bases following a special July 4th Fireworks display! Tickets are still available by calling 718-507-TIXX, in person at the MCU Park box office or at BrooklynCyclones.com

- Ryan Gilbert
BrooklynCyclones.com