News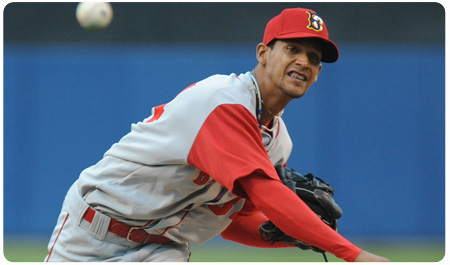 June 27th -- Aberdeen, MD --The Aberdeen IronBirds (2-9) defeated the Brooklyn Cyclones (7-4) 4-3 in the second game of a three-game series on Monday night at Ripken Stadium. Brooklyn had beaten Aberdeen in 11 consecutive games dating back to last season before a late rally in the bottom of the eighth inning sealed the loss.

The IronBirds, losers of nine straight games after an Opening Day victory versus Hudson Valley on June 17th, got on the board first in the top of the second inning. With two outs and runners on first and second by way of walks to Connor Narron and Riley Hornback, Dudley Leonara scored Narron on a double off the base of the wall in leftfield for a 1-0 lead.

Aberdeen padded the lead an inning later with a run on a RBI single to rightfield by Joe Vellegia off of Cyclones' starter Eduardo Aldama scoring Chris Clinton from second.

Brooklyn narrowed the deficit to a run in the top of the fourth on a RBI single on a fly ball to leftfield by Brian Harrison after J.B. Brown began the inning also by singling to left field. IronBirds' starter Parker Bridwell, who was tagged for the loss in a 5-2 Cyclones' win last Wednesday, provided 5.0 innings allowing a run on just three hits with five strikeouts and three walks before turning it over to the bullpen.

After holding the IronBirds hitless through four innings and earning the win last Wednesday, Aldama allowed two runs on five hits with five strikeouts before being relieved by Casey Hauptman in the bottom of the sixth inning.

Chase Greene evened the score with a solo homerun in the top of the seventh inning off of Angel Cespedes before the Cyclones temporarily took a 3-2 lead in the top of the eighth inning. Cespedes was pulled in favor of Trent Howard (1-0) who allowed a run to score on a two-out double to leftfield by Charlie Thurber that scored Javier Rodriguez who had also doubled to leadoff the inning.

Brooklyn reliever Jeremy Gould (0-1) retired the first two batters of the bottom of the eighth inning on a flyout and groundout respectively before allowing three consecutive singles, the last by Joe Vellegia that scored Chris Clinton and Mychal Givens for the go-ahead run. Steven Mazur retired the side in order in the top of the ninth inning for his first of the save season.

The teams' will conclude the three game set tomorrow night at 7:05 PM. Carlos Vazquez (0-2, 2.89 ERA) battles Jake Cowan (0-1, 3.60 ERA) in the rubber game. Brooklyn returns home on Wednesday, June 29th, for a game against Hudson Valley. Tickets are still available and can be purchased at the MCU Park box office, by calling 718-507-TIXX or at Brooklyncyclones.com.