News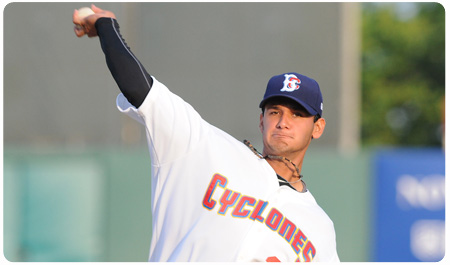 June 26th -- Aberdeen, MD -- The Brooklyn Cyclones (7-3) defeated the Aberdeen IronBirds (1-8) in the first of a three-game series at Ripken Stadium on Sunday night. Starter Marco Camarena (1-0) walked none and yielded just two hits in 6.0 innings of work. The lone run Aberdeen produced off of Camarena was unearned. Righthanders Randy Fontanez and Tyson Seng combined to pitched 3.0 innings of scoreless relief. Aaron Wirsch (0-1) was tagged with the loss after giving up three runs in 5.0 innings. Javier Rodriguez collected three of Brooklyn's six hits, going 3-for-4 with a double, a walk, and two runs. Brian Harrison paced the Cyclones by walking twice, picking up two RBI, and scoring a run.
Harrison notched the first run of the game after drawing a walk, advancing to second on a throwing error by Wirsch on a failed pick-off attempt, advancing to third on a wild pitch, and scoring on another throwing error by Wirsch on a force attempt at first base. Chase Greene drove in the second run of the inning on a groundout.
Brooklyn added another run the following inning on a throwing error by the second baseman on an attempted 5-4-3 double-play.
With a 3-0 lead in the top of the fifth, Harrison roped a two-out line drive to right field to plate Rodriguez and Ismael Tijerina to push the score to 5-0.
After retiring nine IronBirds in a row, Camarena yielded his only run of the game in the bottom of the sixth. The run, however, was unearned as Adam Davis, who scored the run, reached on an error.
Brooklyn and Aberdeen were both held scoreless in the seventh and eighth innings, but the Cyclones added another run in the ninth on Brandon Brown's third home run of the season.
Entering the bottom of the ninth with a 6-1 lead, Seng retired Aberdeen in order. Seng struck out two of the three batters he faced.
The Cyclones will take on the IronBirds at 7:05 p.m. tomorrow, Monday, June 27. Eduardo Aldama (1-0) will oppose Parker Bridwell (1-1). Brooklyn returns home to MCU Park on Wednesday, June 29, for a game against Hudson Valley. Tickets are still available and can be purchased at the MCU Park box office, by calling 718-507-TIXX or at BrooklynCyclones.com.


- Ryan Gilbert