News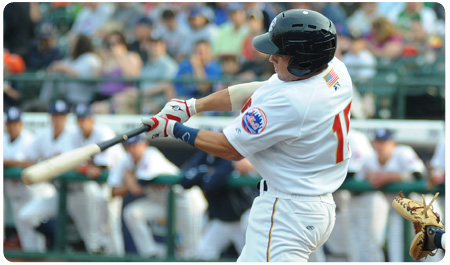 Brooklyn, New York-June 18th, 2011- After opening the 2011 season with a 5-3 win last evening, the Brooklyn Cyclones (1-1) gave a valiant effort in front of a 9,003 crowd at MCU Park, but fell to the Staten Island Yankees (1-1) 3-2. The Cyclones are now 9-2 in home openers, with their only other defeat coming at the hands of Staten Island in 2006, an 18-0 defeat.
Cyclones' starter Carlos Vazquez (0-1) dazzled through the first four frames retiring 11 of the first 12 batters faced before running into a trouble in the top of the fifth inning. Yankees' right fielder Benjamin Gamel led off the frame with a bloop single to right and first basemen Reymond Nunez followed suit with a single up the middle to load the bases with no outs.
After designated hitter Shane Brown flew out to right, catcher Jhorge Liccien opened up the scoring with a sacrifice fly to right, plating Gamel. Leftfielder Bobby Rinard would chase Vazquez by singling home Nunez for a 2-0 lead. Cyclones' reliever Steven Winnick retired the side after entering with runners on first and second with two outs, but would surrender an RBI single an inning later by Nunez.
Brooklyn would score their first run at MCU Park just a half-inning later. After Richard Lucas single with two outs, centerfielder Travis Taijeron continued his fast start by lacing an RBI double through the left side for a 3-1 score. Taijeron, who also scored the go-ahead run in the season opener and singled in his first at-bat, hit safely in his first four at-bats.
After failing to score the next two innings and recording just one hit off the Yankees bullpen led by Philip Wetherell and Zachary Arneson, the Cyclones saved the dramatics for the bottom of the ninth inning.
With two outs and shortstop Danny Muno on third by way of a double and wild pitch, second basemen Brandon Brown would not relent off of reliever Branden Pinder. He staved off an eight-pitch at-bat before singling up the middle for just a one-run deficit much to the delight of a Coney Island crowd. It appeared as if extra innings would be in store when right fielder Javier Rodriguez hit a fly ball to right field the very next at-bat, but Gamel saved the day for Staten Island with a full-extension snag to quell the excitement as well as ballgame.
Dustin Hobbs (1-0) earns the win in relief after throwing two innings, allowing a run on two hits while Pinder earns his first save of the season.
The Cyclones will conclude their two-game set with the Staten Island Yankees tomorrow evening at 5 PM. Right-hander Jeff Walters (0-0) will oppose Phil Hughes, currently on the Major League 60-Day Disabled List with right arm fatigue .
Fans will have the opportunity to have a pre-game catch on Father's Day. From 4:00 to 4:30 pm fans will be ushered onto the field in five minute intervals. Anyone interested in participating in the Sunday Funday Pre-Game Catch should line up at either Section 19 (left field) or Section 22 (right field) and MUST BRING THEIR OWN GLOVES AND BASEBALLS. A Cyclones representative will escort groups onto the field on a first-come, first-serve basis. You must have tickets to Sunday's game to participate in the pre-game catch. MCU Park gates open at 3:30pm on Sunday.