News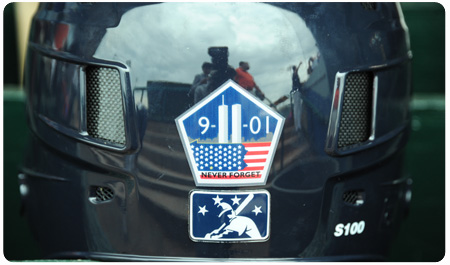 The New York-Penn League, a Class-A Short Season league established in 1939, begins their 73rd season tonight with a new addition to the uniforms of players throughout the league as a commemorative honor patch has been added to the batting helmets of each team.
The patch is in the shape of the Pentagon, featuring an American Flag in the shape of the state of Pennsylvania, emblazoned with the words "NEVER FORGET." In the top half of the logo is the script "9-11-01," with the Twin Towers of the World Trade Center in place of the numerals for 11.
"As we approach the 10-year anniversary of the attacks, the New York-Penn League, who's member teams have a strong connection to the attacks, wanted to make a statement of solidarity and remembrance for the lives lost that day and in the years that have followed as we fight for our freedom," said Cyclones General Manager Steve Cohen. "We feel this is the perfect way to achieve that goal in an understated, yet respectful way."
For the Cyclones, the attacks hit particularly close to home given the proximity of MCU Park to the World Trade Center. On the first base side of MCU Park is the "Brooklyn Wall of Remembrance" which honors over 400 first responders with a connection to the Brooklyn area, who were killed on September 11, 2001.
"With the tenth anniversary coming up in a few months, the league thought it was a great way for all of us to come together in the same way our country did following the attacks," said Cohen. "It's our way of showing that the thousands of people we lost that day may be gone, but they are surely not forgotten."
The New York-Penn League features seven teams from New York (Staten Island, Brooklyn, Hudson Valley, Batavia, Jamestown, Auburn and Tri-City), two in Pennsylvania and single teams in Connecticut, Massachusetts, Maryland and Vermont. The short-season schedule begins June 17 and runs through Labor Day weekend.