News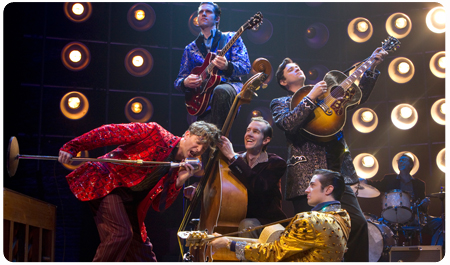 The Cyclones home opener is scheduled for Saturday, June 18th against the Staten Island Yankees. Fans in attendance will have the opportunity to enjoy a uniquely New York experience when the TONY Award winning musical Million Dollar Quartet performs on the field prior to the game. In addition the quartet will also perform the National Anthem to kick off the 2011 season.

MILLION DOLLAR QUARTET, a new musical inspired by the actual event, will be playing at Broadway's New World Stages (340 W. 50th Street) in July . The cast currently features: Eddie Clendening (Elvis Presley), Lance Guest (Johnny Cash), Robert Britton Lyons (Carl Perkins), Jared Mason (Jerry Lee Lewis), Victoria Matlock (Dyanne), and Tony Award nominee Hunter Foster (Sam Phillips).
On December 4, 1956, an auspicious twist of fate brought Johnny Cash, Jerry Lee Lewis, Carl Perkins, and Elvis Presley together. The place was Sun Records' storefront studio in Memphis. The man who made it happen was Sam Phillips, the "Father of Rock and Roll," who discovered them all. The four young musicians united for the only time in their careers for an impromptu recording that has come to be known as one of the greatest rock jam sessions of all time.
Inspired by the actual event, MILLION DOLLAR QUARTET features a treasure trove of the greatest rock and roll, gospel, R&B and country hits from these musicians, including such iconic songs as "Blue Suede Shoes," "Fever," "Sixteen Tons," "Who Do You Love?," "Great Balls of Fire," "Riders in the Sky," "I Walk the Line," "Folsom Prison Blues," and "Whole Lotta Shakin' Goin' On." MILLION DOLLAR QUARTET captures the infectious spirit, freewheeling excitement and thrilling sounds of a singular moment when four of the music industry's most extraordinary talents, all in their creative prime, came together for one of the most memorable nights in music history.

MILLION DOLLAR QUARTET opened on Sunday, April 11, 2010.