News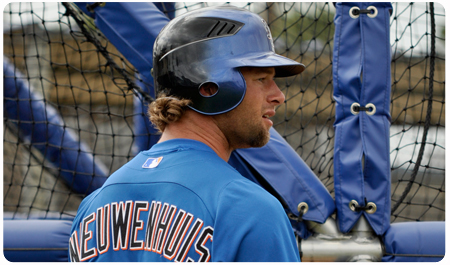 Last September Kirk Nieuwenhuis put a ribbon on the 2010 season by winning the Sterling Award, emblematic of the Team MVP, for Binghamton (AA) of the Eastern League. The 23-year-old outfielder opened some eyes in the Mets organization when he tore through Double-A, hitting .289 with 16 home runs in 90 games with the B-Mets, and was invited to major league camp this spring. The third-round pick in the 2008 MLB Draft struggled in his first experience with the big leagues, hitting .118 (4-34) in his 19 games with the Mets during the spring, but he thinks those struggles have helped make him a better player.
"It was an eye opening experience" said the former Cyclone who led the team in virtually every offensive category during the 2008 season. "I saw the way guys like David Wright and Jason Bay and Jose Reyes prepare every day. I saw how much was involved on the physical and mental level and it showed me what I needed to do to be on that level."
And if the start of the 2011 season is any indication, it seems like Kirk is almost ready to make that jump. Through May 3rd, the centerfield is hitting .316 (30-95) with 19 runs scored, 10 doubles, four home runs and eight RBI in 27 games with Buffalo (AAA) of the International League. He has hit safely in 22 of these games, and reached base safely in 25 of the 27 starts.