News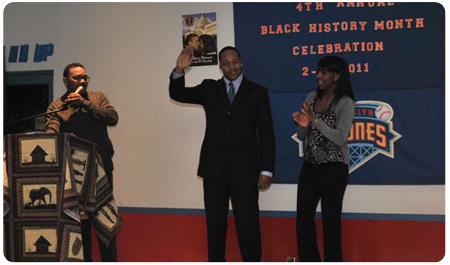 On Thursday, February 24 the Brooklyn Cyclones hosted Coney Island's Fourth Annual Black History Month Celebration at MCU Park. Several residents were honored for their involvement in the community including Mustafa Ahmed (Wally's Restaurant), Derrick Brown (D-Flight Warrior), Henry Kinsey (Mark Twain Parent Coordinator), Pamela Pettyjohn (Coney Island Resident), Rodney Knight (Coney Island Gospel Assembly, Sharks Football), Michael Super (NYC Parks & Recreation), Flower White (Coney Island Branch Librarian / Coney Island Gospel Assembly Youth) were honored by local politicians Brooklyn Borough President Marty Markowitz, Councilman Domenic Recchia, Assemblyman Alec Brook-Krasny and State Senator Diane Savino for their efforts towards making a positive difference in the Coney Island Community.
Guest speakers for the evening included Donovan Mitchell from the front office of the New York Mets, Ken Currie from MCU as well as Kenyatta Blake (Buckshot of Duck down records) delivered a positive message to the youth in attendance
The evening's events also featured displays from local artists Africasso & Harriet of the NY Aquarium as well as music and poetry performances from Coney Island residents.