News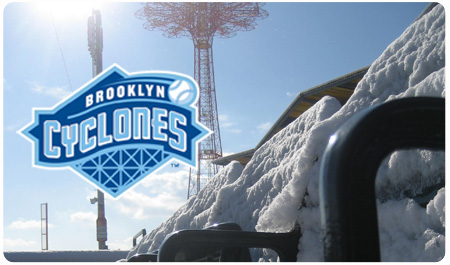 Tired of shoveling snow? Feel like Baseball season will NEVER come? The winter of 2010-2011 has been the worst in years, and trust us when we say we feel your pain. Shoveling the driveway more than once in a day, digging your car out only to find that 10 minutes later you've been plowed back in…we've all been there. It's not as much fun as the enjoying the surf, sights and sounds of Coney Island during the summer.
With that in mind, we have put together a list of reasons to love the Cyclone. And to commemorate the 37 inches of snow we have received over the past two months here in New York City, we came up with 37 reasons to love Brooklyn's favorite team. Now just sit back, relax, and trade in your mittens for a baseball mitt because Opening Day will be here before you know it!
Spectacular fireworks show every Friday and Saturday night
New for 2011 - fans can run the bases not only on Sundays, but Tuesday, Wednesday and Thursday!
Increase in the number of giveaways at the front gate, from 2,500-3,000!
Six Game Mini-Plans including free food, exclusive Cap and more for only $96 per person.
T-shirt shooting Pink Ape
Early entrance for Season Ticket Holders
Plan holders receive a special New York Mets pre-sale opportunity
Meet the Cyclones Mondays, giving the fans more chances to meet your favorite players!
Unique replica jersey giveaways on Thursday nights
King Henry and "Jay from Howell, New Jersey"
Benefits and special gifts for all plan holders and groups
Able to stand on the field for the National Anthem with the Cyclones
Pre-game on field catch open to all fans on Sundays
Free playoff tickets given to all season ticket holders
The smiling and dancing Beach Bums
The view from your seats of historic Luna Park and the Parachute Jump
Free giveaways on facebook
Affordable prices and family fun
Because everyone loves an Applebee's Quesadilla
Opportunity to bring home a jersey right off the players backs
Able to see young stars grow up right in front of your eyes, Pagan, Davis, Gee and more!
Hot Dogs taste better at the ballpark
The Loveable Mascots, Sandy and Pee Wee
Four Words: Giant Racing Hot Dogs
You never forget the first time you catch a foul ball
TWO chances to ditch work and come out to MCU Park for a 12-noon game!
Five-time McNamara Division Champions
The Kings Plaza gold victory ball
It never rains on Coney Island....but when it does? Tarp slides!!!! You can call weather for an update if need be.
Dancing on dug outs! Get your Cha- Cha ready!
The Speed pitch, UTZ Batting Inflatable, Cyclones Skee Ball and the prize wheel at all 38 home games
The history of Brooklyn baseball (check out our Jackie & Pee Wee statue and the Brooklyn Baseball Gallery)
Free programs, scorecards, and rosters
Leprechauns running around the bases
Having King Henry, Sandy, Pee Wee, the Beach Bums and thousands of people singing Happy Birthday to you on the field!
Cyclones players visiting your birthday party in the Gallery for a private meet and greet!
T-shirt tosses every game.
Despite the fact that it seems to snow every day here in New York now, the bright sun shine and warmth of Opening Day, June 18th, is almost here. We can't wait for 2011 Cyclones Baseball and another exiting year of baseball in Brooklyn!
Hopefully we do not get anymore snow, but just in case Mother Natures has other plans for the Big Apple, we want to hear some of the reasons why YOU are looking forward to the 2011 season so we can keep this list growing! Email your reasons to promotions@BrooklynCyclones.com.
Mini Plans, Groups and Season tickets are now on sale, Call 718.449.8497 for more information!
See you at the ballpark!