News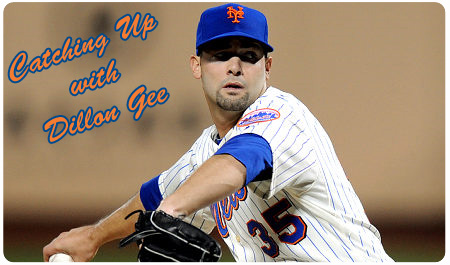 Dillon Gee began his professional career with the Brooklyn Cyclones in 2007, posting a 3-1 record and a 2.47 ERA after being selected in the 21st round of the MLB Draft. The following season, the righthander really opened some eyes combining to go 10-6 in 25 starts between St. Lucie (A) and Binghamton (AA). Heading into the 2009 season Gee had a stellar spring training with the major league squad, getting singled out by Mets manager Jerry Manuel as a player he expected to see at Citi Field that year. Injuries cut his '09 campaign short, but after earning the Sterling Award for the Mets Triple-A Affiliate in Buffalo, Gee made his major league debut in September 2010. Recently Gee met up with BrooklynCyclones.com to talk about his time in Brooklyn and his climb up the latter from Coney Island.
BrooklynCyclones.com: What do you remember most about your time with the Cyclones?
Dillon Gee: The thing that I remember most, and the thing that I tell everyone who asks me about the Cyclones, is the fans. That was my first exposure to playing in that type of atmosphere and really that is one of the only places in the minor leagues where you get used to playing in front of that many people. There were some other stops along the way where you are playing in front of a couple hundred people. The fans in Brooklyn were always there and always so passionate about the team. It just made you want to go out there and give it everything you had and win.
BC: Do you keep in touch with any of the guys from the year you were in Brooklyn?
DG: Oh for sure. I came up through the system with guys like Zach Lutz, Dylan Owen, and Duda. So I played with them the last couple of years too and during the off season we'll keep in touch.
BC: When you came up to the big leagues last year there were a bunch of home grown guys on the team, including some guys you played with in Brooklyn. How did that help your adjustment to the major leagues?
DG: It definitely made it easier to come into a clubhouse where there were some familiar faces. It kind of calmed the nerves down a little bit because, let's be honest, I was nervous as can be when I came up to the Mets. But it was good to have so many other guys around who I knew and who were going through the same things.
BC: Was there any one particular moment or game from your time in Brooklyn that sticks in your head?
DG: Honestly, there is nothing that I did that really sticks in my head. Really the things I remember from being there were the celebrations that I had nothing to do with. Matt Bouchard hit a walk-off home run and then the next night we won a game on a walk-off balk. Those games got us into the playoffs and the celebrations were crazy!
BC: Last year you had some pretty immediate success when you came up to the big leagues. Your first start you only gave up two hits over 7.0 innings, every start you made was a quality start. How has that success helped you get ready for 2011?
DG: It is definitely motivation for me. At the very least it broke the ice for me, so I know what it's like in the major leagues and I know that I can compete on this level and I can be successful. For me, I saw how hard everyone works at this level and for me, that has really helped me kick it up a notch this off season and showed me that I need to work even harder to not only make it back to the big leagues, but to stay there.
BC: Thanks for your time Dillon. We all look forward to seeing your continued success in 2011.
DG: Thanks to everyone in Brooklyn for helping me get here. I'll never forget my time with the Cyclones.