News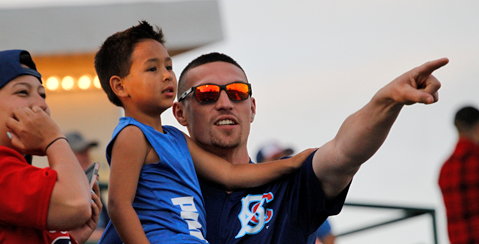 School is in the home stretch, and summer is closing in. That means it's almost time for Brooklyn Cyclones baseball, and this summer is chock-full of fun and entertainment perfect for our youngest fans. Here's a look at some of the fun coming in June:
Join the Flock – The Flock is the Cyclones kids club and offers tickets to five games, food vouchers, exclusive experiences and members only giveaways for just $50 per kid. To sign up - CLICK HERE

Sunday, June 16th – Celebrate Father's Day at MCU Park with Paw Patrol Day on Coney Island. There is a special Paw Patrol Meet & Greet with characters from the show. But that's not all. Fans are invited to have a catch on the field pre-game, kids can run the bases post-game and the first 2,000 fans in attendance will receive a Brandon Nimmo Emoji Pillow.

June 29 & June 30 – Celebrate Kids Opening Weekend with Build-A-Bear giveaways at both Saturday and Sunday's game. The first 1,200 kids in attendance will have the chance to Build-A-Bear at MCU Park. We will also have special character appearances from Combo Panda and Red Titan Ryan from Ryan's World. There will also be fireworks on Saturday night and kids run the bases on Sunday.

Super Hero Day - The Cyclones will join forces with Marvel for Super Hero Day featuring Spider-Man on Sunday, July 14th. The first 2,000 fans in attendance will receive a Spider-Man bobblehead, kids who dress in costume will be able to take the field with the Cyclones for the National Anthem, and more fun.

Mo Willems Day - Full details will be announced in the weeks ahead, but Mo Willems and his literary friends will be coming back to MCU Park on Saturday, August 10th.

To purchase tickets for these games, or any game -- CLICK HERE