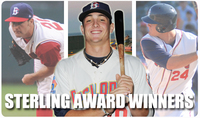 Each year, the New York Mets name a Sterling Award winner -- emblematic of the team MVP -- at each level of the organization's minor league system, as well as an overall Sterling Player of the Year and Sterling Pitcher of the Year.

This year, Darrell Ceciliani has been named the Cyclones' Sterling Award winner, on the heels of a record-setting season for the 20-year-old from Madras, Oregon -- the youngest player on the team.

Ceciliani's .351 average was the the highest single-season mark in franchise history, and he became the first Cyclones player ever to win the New York-Penn League batting title. Ceciliani set a variety of offensive records this year, in addition to his .351 batting average, also establishing new franchise highs with 95 hits, 56 runs, and 12 triples.

Several familiar faces to Brooklyn fans fill out the remainder of the Sterling Award roster, with Cyclones alumni -- Dillon Gee (2007), Kirk Neiuwenhuis (2008), and Wilmer Flores (2008) -- winning the award at three of the four levels above Brooklyn, as well as two former Cyclones -- Lucas Duda (2007) and Mark Cohoon (2009) -- taking home the Player and Pitcher of the Year honors, repectively. Nieuwenhuis and Cohoon previously won Sterling Awards for their performances in Brooklyn.

2010 Sterling Player of the Year: Lucas Duda
Duda split time during the 2010 campaign between Binghamton (AA) and Buffalo (AAA). In 114 games between the two stops, he hit .304 (129-424) with 74 runs scored, 40 doubles, 23 home runs and 87 RBI. After being promoted to Buffalo in mid-June he hit .314 (83-264) with 44 runs scored, 23 doubles, two triples, 17 home runs and 53 RBI in 70 games. The lefthanded-hitting Duda tied a Buffalo franchise record with a home run in five consecutive games from June 28th to July 2nd. In 2007, Duda made his professional debut with Brooklyn, and was a standout hitter for the '07 McNamara Division championship team, splitting time between first base and left field. He hit .299 (70-for-234) that year, with 32 runs, 20 doubles, three triples, four home runs, 32 RBI, and three stolen bases. Duda also hit a mammoth home run in Game One of the NYPL Semi-Finals to help Brooklyn beat Staten Island, who they would go on to sweep before losing in the Championship Series. Duda's 17-game hitting streak in 2007 still stands as the longest in franchise history.

2010 Sterling Pitcherof the Year: Mark Cohoon
Cohoon split time during the 2010 campaign between Savannah (A) and Binghamton (AA). In 26 games (all starts) games between the two stops, he went 12-5 with a 2.57 ERA. Cohoon started the year at Savannah, and went 7-1 with a 1.30 ERA in 13 starts. In 90.1 innings for the Sand Gnats, he allowed 68 hits, 15 runs -- 13 earned -- and 17 walks, while striking out 75. After being promoted to Binghamton in late June, he went 5-4 with a 4.18 ERA. In 71.0 innings for the B-Mets, he allowed 74 hits, 41 runs -- 33 earned -- and 15 walks, while striking out 56. In 2009, pitching for the Cyclones, Cohoon led the New York-Penn League with nine wins (9-2), and ranked sixth with a 2.15 ERA. In a league-high 92.0 IP, he allowed 69 hits, 26 runs, 22 earned, and 20 walks, with 70 strikeouts. Opponents hit .210 against Cohoon, and he surrendered just 18 extra-base hits, while facing 356 batters. Mark's nine wins tied a Cyclones' franchise record, and his 92.0 innings established a new club record. Cohoon pitched six or more innings in 12 of his 14 starts, and allowed two earned runs or less 10 times. He struck out a season-high nine batters on 8/15 vs. ONT.
2010 Sterling Award winners:
| | | | |
| --- | --- | --- | --- |
| PLAYER | CLUB | LEVEL | YEAR IN BROOKLN |
| Dillon Gee | Buffalo Bisons | AAA | 2007 |
| Kirk Nieuwenhuis | Binghamton Mets | AA | 2008 |
| Wilmer Flores | St. Lucie Mets | A (Advanced) | 2008 |
| Cesar Puello | Savannah Sand Gnats | A | NA |
| Darrell Ceciliani | Brooklyn Cyclones | A (Short Season) | 2010 |
| Aderlin Rodriguez | Kingsport Mets | Rookie | NA |
| Domingo Tapia | Gulf Coast League Mets | Rookie | NA |
| Eudy Pina | Dominican Summer League Mets 1 | Rookie | NA |
| Hector Alvarez | Dominican Summer League Mets 2 | Rookie | NA |
The Cyclones' previous Sterling Award winners have been:
2009: LHP Mark Cohoon
2008: RHP Brad Holt
2007: RHP Dylan Owen
2006: OF Dustin Martin
2005: OF Joe Holden
2004: OF Ambiorix Concepcion
2003: 1B Ian Bladergroen
2002: RHP Kevin Deaton
2001: 1B Jay Caligiuri & LHP Ross Peeples