News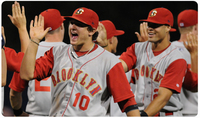 Box Score

Brooklyn used the long ball to beat Aberdeen by a score of 6-3 on Sunday night, as RF Cory Vaughn and LF Will Cherry each went deep in the game.

Vaughn put the Cyclones on the board early, belting his second home run of the season -- a two-run shot -- in the top of the first inning off of rehabbing major league pitcher Mike Gonzalez. Cherry's bomb came in the sixth inning. Vaughn and Cherry each had one hit in the game.

3B Joe Bonfe added three hits of his own in four at bats with an RBI on his first of two doubles in the game. SS Rylan Sandoval, DH Darrell Ceciliani, and 1B Jeff Flagg each went 2-for-4 with Flagg and Ceciliani adding an RBI each. 2B James Shroeder and C Juan Centeno added one hit apiece as Brooklyn racked up 13 hits in the game.

Brooklyn's starter, Mitch Houck (2-0), earned the win, scattering eight hits over 7.0 innings and surrendering just two earned runs with an impressive eight strikeouts. RHP Hunter Carnevale came on in the eighth inning and pitched two strong frames to close out the game, allowing two hits and one earned run while striking out three.
Brooklyn returns home on Monday, June 28th, to again take on the Renegades at 7pm. Fans can purchase special $5 "Turn Back the Clock" tickets, and that night, the first 2,500 kids (14 and under) in attendance will receive a Mike Lupica Sampler giveaway presented by Penguin Books.

There's something for everyone at every Cyclones game -- free t-shirts, free jerseys, bobbleheads, fireworks, free food, and more!
Written by Josh Mevorach