News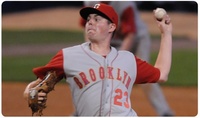 Box Score

For the second straight game, Brooklyn could not hold onto the lead, and was overcome in the late innings on Saturday night, losing to Aberdeen by a score of 3-2.

The Cyclones rapped out nine hits, but only plated two runs. 1B Jeff Flagg and RF Cory Vaughn had the team's RBI, while LF Cody Holliday and SS Rylan Sandoval notched two hits each.

Brooklyn fell behind by a run in the fourth inning, but stormed back in the sixth to take a 2-1 lead. In the bottom of the eighth, though, the IronBirds jumped on Hamilton Bennett (pictured, by George Napolitano) and Ryan Fraser to score the tying and go-ahead runs. Fraser (0-1) was charged with the blown save and took the loss -- his first of the year.

Starting pitcher Wes Wrenn pitched well, allowing just the one run in six innings of work. He left with the lead, but took a no-decision when Aberdeen tied the game in the eighth.

Brooklyn returns home on Monday, June 28th, to again take on the Renegades at 7pm. Fans can purchase special $5 "Turn Back the Clock" tickets, and that night, the first 2,500 kids (14 and under) in attendance will receive a Mike Lupica Sampler giveaway presented by Penguin Books.

There's something for everyone at every Cyclones game -- free t-shirts, free jerseys, bobbleheads, fireworks, free food, and more!