News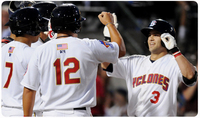 Box Score

The Cyclones' bats came alive on Thursday night as Brooklyn downed the Hudson Valley Renegades by a final score of 16-5. Brooklyn (5-2) scored a season-high 16 runs on 19 hits while striking out just three times to earn the team's fifth victory and maintain possesion of first place in the McNamara Division. The win keeps the Cyclones unbeaten at home this season.

1B Jeff Flagg led the offense, going 4-for-5, with two triples and four RBI. SS Rylan Sandoval (pictured, by George Napolitano) hit the first professional home run of his career off the scoreboard in deep left field, and finished the game 2-for-4 with two runs and three RBI. C Juan Centeno added three more RBI with a 3-for-5 performance, while Cody Holliday, James Shroeder, Will Cherry, Joe Bonfe, and Kurt Steinhauer rounded out the offensive explosion with one RBI apiece. RF Cory Vaughn also added two hits.

Lefthander Chris Hilliard (2-0) tossed six impressive innings, surrendering six hits with two strikeouts, no walks, and gave up just three unearned runs to earn his second win of the season. Ryan Fraser came on in relief for the seventh inning and pitched one scoreless frame, allowing one walk and striking out one. Hunter Carnevale took the mound for the eighth inning, and struck out the side. Pedro P. Martinez pitched the ninth inning, and surrendered a controversial home run that led to manager Wally Backman's first ejection of the season before closing out the Renegades.

Brooklyn returns home on Monday, June 28th, to again take on the Renegades at 7pm. Fans can purchase special $5 "Turn Back the Clock" tickets, and that night, the first 2,500 kids (14 and under) in attendance will receive a Mike Lupica Sampler giveaway presented by Penguin Books.

There's something for everyone at every Cyclones game -- free t-shirts, free jerseys, bobbleheads, fireworks, free food, and more!

Written by Josh Mevorach