News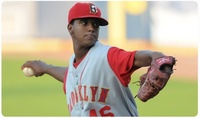 Brooklyn lost its second game of the season on Wednesday night, losing to Hudson Valley by a score of 5-2.

Starting pitcher Yohan Almonte suffered the loss, allowing five runs (four earned) on five hits in 6.2 innings. Almonte (pictured, by George Napolitano) was cruising through the first six innings, with Brooklyn maintaining a 2-1 lead, but ran into trouble in the seventh frame, and the Renegades plated four runs to take the lead for good.

The Cyclones offense managed just three hits -- LF Will Cherry, SS Rylan Sandoval, and RF Cory Vaughn notched one safety each. Cherry's hit drove in the only two runs of the game for Brooklyn.
Brooklyn returns home on Thursday to take on the Renegades at 7pm on the first Jersday Thursday of the season. That night, the first 2,500 fans in attendance will receive a "Home Replica" jersey, presented by MCU.


There's something for everyone at every Cyclones game -- free t-shirts, free jerseys, bobbleheads, fireworks, free food, and more!