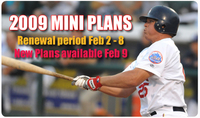 Not everyone can make it to every Cyclones game. But that doesn't mean you should miss out on discounts, deals, perks, and privileges! Cyclones Mini Plans let you enjoy the VIP treatment with a smaller, more affordable, and more flexible ticket plan.

In 2009, there are eight great plans from which to choose, each with a different theme. Find the one that's right for you and join the Cyclones for great baseball, thrilling entertainment, exclusive benefits, and unforgettable nights at the ballpark.

2008 Plan Holders will have an exclusive renewal period from February 2nd through the 8th. New Plans will be available beginning February 9th.
As a Five-Game or Seven-Game Mini Plan Holder, you will receive these benefits:
Same great seats to every game in your plan
Discounted ticket price - plans start at $11 per game
Priority Seating: Select the area where you want to sit and you will receive the best seats prior to tickets going on sale to the general public (based on availability)
EXCLUSIVE Mini Plan Holder cap giveaway
Invitation to a Cyclones pre-season practice
First chance to purchase additional tickets before they go on sale to the general public, including Opening Day and playoffs
Unused Ticket Policy: Any tickets not used for a previously played game may be exchanged for a bleacher ticket to any 2009 Sunday-Thursday home game, based on availability. Or, you can exchange your ticket and pay just $5 for a Field Box Seat
FLEX PLAN
Select ANY nine games that you want to attend from our 2009 schedule. Although we can't guarantee the same seat for every game, you will receive the best available seat in your area of preference, based on availabilty, plus benefits #3-7 listed above.
Field Box Seat: $135, Box Seat: $108