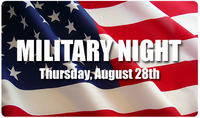 While all eyes recently turned to our nation's Olympians overseas, scores of local American heroes of another ilk will be celebrated during a competition closer to home. Troops from every Army, Navy, Marine Corps, Air Force and Coast Guard command in New York, Connecticut and New Jersey have been invited to take part in "Calling All Guards" at Keyspan Park on Thursday, August 28, from 9 a.m. to 3 p.m.

The event is free and open to the public. Calling All Guards is presented by the Brooklyn Cyclones and the US Family Health Plan at Saint Vincent Catholic Medical Centers -- a Department of Defense-designated healthcare plan that serves local military families. The competition will include an array of athletic training drills from various sports, although details are being kept under wraps until event day to heighten excitement. All teams will be honored during an on-field ceremony from 6:15 – 6:30 p.m., prior to the Cyclones' Military Appreciation game against the Oneonta Tigers.

The triumphant team of troops will receive a trophy (the Calling All Guards Cup) and throw out the first pitch. "We have always taken great pride in supporting our local troops," said Cyclones General Manager Steve Cohen. "This event is designed as a fun, friendly competition to convey our appreciation for all that these men and women do for us."

In addition to the Calling All Guards event, anyone who shows their military ID at the KeySpan Park ticket window will be able to purchase discounted $10 Box Seats to Thursday's game.

The US Family Health Plan at Saint Vincent Catholic Medical Centers delivers compre¬hensive (TRICARE Prime) healthcare benefits to family members of active-duty troops, Reservists, Guard and military retirees in the tri-state area and eastern Pennsylvania. The Plan's Executive Director, Paul Goebel, cites an ongoing mission to serve military families as the basis for sponsoring Calling All Guards. "It's an honor for us to honor our heroes," he said. "We work with them every day and understand their sacrifices."

For more information on the US Family Health Plan at Saint Vincent Catholic Medical Centers, visit www.usfamilyhealthplan.org or call 800-241-4848.