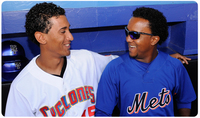 Each year, the Cyclones roster is filled with new names. This season, one of those names is a very familiar one that practically jumps right off the page at you.

Righthanded pitcher, #45, from the Dominican Republic…Pedro Martinez!

But it's not the Pedro you think it is.

Pedro P. Martinez – "P.P." in the clubhouse – is not related to the Mets' star pitcher and future Hall of Famer, but he knows all about him, and knows that he has some very big shoes to fill if he ever wants be compared to his namesake. On Wednesday, he made a trip to Shea Stadium to meet the "other" Pedro, and had the experience of a lifetime.

The two Pedros chatted in the Mets dugout and around the batting cage, talking about baseball, their homeland, their names, their numbers, and other common bonds. Afterwards, Pedro P. was smiling from ear to ear.

"I am proud and honored to carry the same name as one of the greatest pitchers of all time," says the younger Pedro, "and to be playing the same position, in the same organization. He is a hero" The elder Pedro is both iconic and legendary in the Dominican, as much for his performance off the field as for his performance on it. "He is a great man, and an incredible person, who is known for his generosity and kindness," says Pedro P., painting a different picture than the one of the intense and cold-hearted dominating fireballer on the mound.