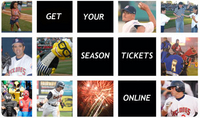 With
Season Tickets
, you pay
less
and get
more
!
Season Ticket Holders get the same great seat for all 38 Cyclones home games at a discounted rate, and get tons of exclusive benefits, like free Playoff tickets, free parking, free guaranteed giveaways, free Mets tickets, batting practice on the field at KeySpan Park, post-game autograph sessions, and much more! With giveaways, special appearances, or spectacular fireworks shows at every game, the Cyclones are the hottest ticket in town, and Season Tickets ensure that you'll never get shut out from seeing your favorite team at KeySpan Park.
Here's a look at just some of the benefits Season Ticket Holders will enjoy in 2008:
SEASON TICKET PRICES WILL STAY THE SAME, while individual game ticket prices will be raised slightly. That means you save even more when you buy Season Tickets – saving up to $98 per seat!
FREE PLAYOFF TICKETS. You'll get tickets for all potential 2008 home Playoff games at NO ADDITIONAL CHARGE. That's a savings of up to $60!
FREE PARKING ON MONDAY NIGHTS. That's a $30 value!
DOLLAR NIGHTS. On select nights, your favorite foods and drinks will be just $1 each, when you show your MVP card, identifying you as a Season Ticket Holder!
GUARANTEED EXCLUSIVE GIVEAWAYS. Two special gifts only for Season Ticket Holders, and you can pick them up throughout the season.
BATTING PRACTICE AT KEYSPAN PARK. Your chance to take some swings on the field, and see if you have what it takes to hit one deep. This year's exclusive Season Ticket Holder BP will take place prior to the team's pre-season workout on Saturday, June 14th.
SECURED EXPRESS ENTRANCE AT THE MAIN GATE. Season Ticket Holders go to the front of the line, getting you inside the ballpark – and allowing you to get that night's giveaway item – faster!
GROUP PICTURE WITH THE 2008 CYCLONES. You'll stand on the infield side-by-side with our players and coaches on Sunday, July 27th for this aerial "team picture" that you can print from the team's website.
ONLINE ACCOUNT. You can manage your tickets – and post the ones you can't use on the Cyclones Ticket Marketplace for re-sale – with your online Season Ticket Holder Account. And new for 2008, you will be able to electronically transfer your tickets for any game to the party of your choice, a business associate, client, colleague, friend or family member. The recipient of your ticket transfer will be able to use the Print-At-Home feature for instant delivery of the tickets.
FREE METS GAME. Cyclones Season Ticket Holders enjoy a night at Shea Stadium.
In addition to all this, we've got even more great extras planned for 2008 that we'll be alerting you to in the future. So don't miss out on all the great benefits in store! Join us for a great season of Brooklyn baseball, and a summer you'll never forget!
Season Tickets are priced at just $494 per seat!

To renew your Season Tickets online, using the account number and password provided in a recent mailing, CLICK HERE
.
To purchase NEW Season Tickets, CLICK HERE or call 718-449-8497.