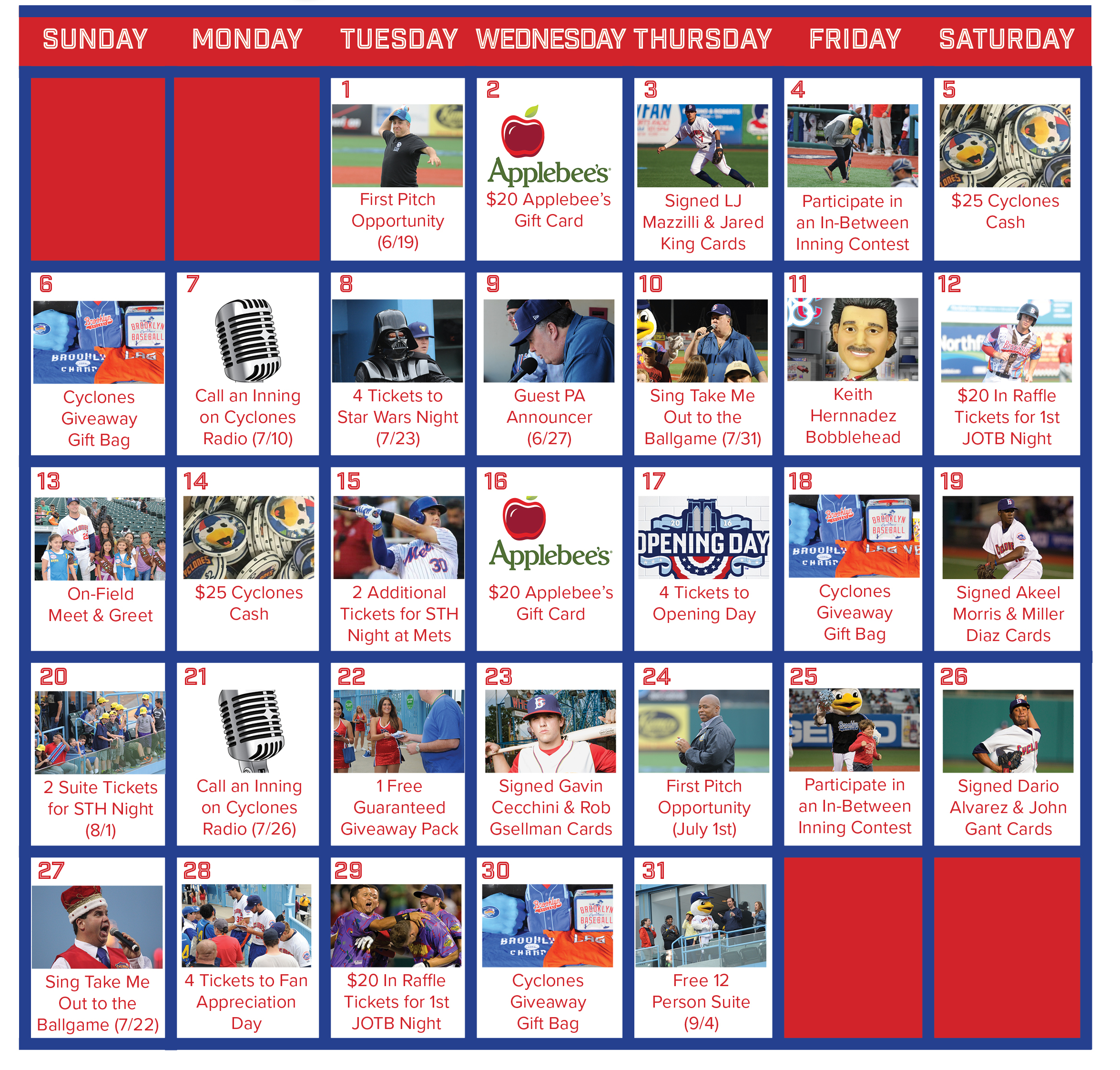 Starting on Tuesday, March 1st, we will be selecting daily winners who will receive great Cyclones prizes...consider it Spring Training for Cyclones fans. In order to be eligible, you must be a full season ticket holder who has paid in full. The earlier you renew, the more chances you have to be a winner!
Winners will be posted here Monday - Friday with weekend winners being posted the following Monday.
Once you've submitted your renewal, you will be eligible for all remaining drawings. Pay in full by Monday, February 29th and you will automically be entered in all 31 drawings.
One (1) prize per account. You will no longer be eligible once you are chosen in our daily prize drawing.
DAILY WINNERS
March 1st - Bill Gargan
March 2nd - Diane Debernardo
March 3rd - Anissa Guariglia
March 4th - Francis Marra
March 5th - Patrick McKiernan
March 6th - Stephen Wallach
March 7th - Anthony Gucciardo
March 8th - Ron Pimpsner
March 9th - George Pagan
March 10th - Joseph Sorrentino
March 11th - Louis Sacco
March 12th - Lisa Gavaletz
March 13th - Michael Pam
March 14th - Louis Scarcella
March 15th - Robert Filipowski
March 16th - Stanley Hopard
March 17th - Frances Stoffo
March 18th - Donna Baxter
March 19th - Gerard Tweedy
March 20th - Vernon Gibson
March 21st - Chris Oliveri
March 22nd - Jeff Rosenberg
March 23rd - Tom Rodriguez
March 24th - Tom Murphy
March 25th - Rich Lawrence
March 26th - Tina Gray
March 27th - Dmitry Kristal
March 28th - Matthew Holland
March 29th - Tim Ahern
March 30th - Maria Nieves
March 31st - Richard Lundberg