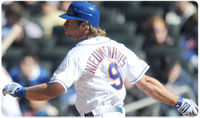 The baseball resting in the top shelf of Kirk Nieuwenhuis' new locker stall had several scuffs and dirt marks on it, the rookie center fielder noted after Saturday's 4-2 win over Atlanta.

Nieuwenhuis had the ball as a souvenir from his first major-league hit – a dribbler past the mound on the second-base side – as part of a 2-for-4 day in his debut with the Mets.

"It was fun. I wish it was (hit) a little bit harder. But I will take that every single day. It's great to get it out of the way," said Nieuwenhuis, who was recalled from Triple-A Buffalo after Andres Torres was placed on the disabled list last week with a calf injury suffered on Opening Day. "Definitely, it's something to build on. It's just fun to be back on the field after a couple of injuries."

Nieuwenhuis, 24, was limited to 53 games with Buffalo last season due to a torn labrum in his left shoulder. The 6-foot-3 outfielder also suffered an oblique injury in March, and was sent to the minors once Torres and Scott Hairston were deemed healthy to open the season in New York.

Terry Collins said the lefty-swinging Nieuwenhuis will start primarily against righthanded pitchers, with Hairston starting against lefties, including this weekend's games against Phillies southpaws Cliff Lee and Cole Hamels.

Nieuwenhuis began his professional career with the Cyclones in 2008 and led Brooklyn in virtually every statistical category. Kirk became the 33rd former Cyclone to make the climb to the major leagues and is one of seven members of the 2008 squad to make the big leagues.