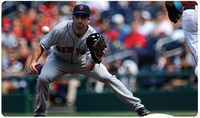 On Sunday, Josh Satin made his New York Mets debut becoming the 31st former Cyclone to make the climb to the big leagues. Satin went 1-2 and started the game at first base.

When Satin saw his name in the lineup card for the first time, he had some butterflies as you would expect of anyone making their big league debut. But once he got into the batter's box for the first time things seemed to slow down for him....literally.

"I looked at the board when i took the first pitch and saw that it was an 83 miles per hour fastball," the former Cyclone said. "I said to myself 'okay, I can hit that. Don't get too anxious.'"

He then stroked a single to left field for the first hit after four years in the minor leagues, connecting on a 60-MPH curveball.

Satin appeared in 45 games with the Cyclones in 2008 and hit .450 with four home runs and 13 RBI.