Front Office
ANGELA ANTONELLO-KARLSBERG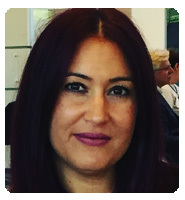 Accounts Payable
AAntonello@BrooklynCyclones.com
PH: 718-382-2617
Angela was born and raised in Bensonhurst, Brooklyn. She graduated from St. Francis College with a degree in Business Management in 2008. She began her time with the Cyclones in August, 2010 and is responsible for all accounts payable for the organization.
She currently lives in New Jersey, with her husband.
Who was your favorite cartoon character when you were a kid?
I think it was to be a tie between She-Ra and Rainbow Brite.


Who is your favorite baseball player of all time?
Derek Jeter


What is your favorite month of the year and why?
July. I love the summer and the 4th of July.


What is your favorite type of candy?
Twix.


If you could share a pizza with any three people, who would you choose?
Elvia, Frank Sinatra and Betty White.


What sporting event do you wish that you could have witnessed first hand?
The Rangers winning the Stanley Cup in 1994.


If you were an inmate on death row, what would you request for your last meal?
McDonalds. Big Mac & Fries.


Pick the one that you think is more likely to be real - Ghosts or Bigfoot?
Ghosts!


If you could be any fictional character, whom would you choose?
Superman, I would love to be able to fly, even though I hate heights.


What app on your phone do you use most frequently
Facebook


Besides the Cyclones, what are your favorite sports teams?
Yankees, Knicks and Rangers.


What is your favorite place in Brooklyn?
Coney Island in the summer!


What was your favorite toy when you were a kid?
My green Care Bear, which I still have.


What is your favorite ice-cream flavor
Chocolate


Who was your favorite teacher?
Ms. Ali, my 6th grade teacher, she was the best. She wrote down my notes for me when I broke my fingers and couldn't write for six weeks.


Do you believe we landed on the moon? Or was it a sound stage in LA?
It was real!